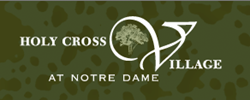 One of our goals at Holy Cross Village is to create an environment that allows seniors to live an enriching, empowering and holistic lifestyle.
South Bend, IN (PRWEB) September 12, 2014
On Thursday, September 11, 2014, Holy Cross Village resident Cecilia O'Donnell appeared on Mystics of the HeartLand in the episode entitled "Spirituality and Healthy Living."
The series, which airs on WNIT Public Television, explores the intersection of spirituality with science, nature, the arts, and more.
O'Donnell is a resident of Shubert Villa, the senior assisted living neighborhood within Holy Cross Village at Notre Dame. The continuing care retirement community features services and amenities designed to keep the mind, body and spirit young.
"One of our goals at Holy Cross Village is to create an environment that allows seniors to live an enriching, empowering and holistic lifestyle," said Susan Griffin, marketing director. "We are well known for our strong sense of community and spirituality."
It is no wonder, then, that O'Donnell was interviewed for the TV program, which focuses on ordinary people and everyday spirituality.
"Mystics of the HeartLand is a locally produced program that focuses on spirituality and various topic that many seniors find interesting," explained Andrew Brent, producer at Gentle Fox Productions, the show's producer. "Several Holy Cross Village residents have contributed to the making of this series. We hope to expand Mystics in order to serve a national audience."
Two other Holy Cross Village residents have been integral members of the Mystics of the HeartLand production team. Montel Menting, an independent living villa resident, has been contributing behind the scenes, researching materials. And Carolyn Scheibelhut, who resides in the senior independent living Andre Place, has been involved in writing scripts for the show.
"All of our residents are encouraged to become active in the community—as much as they feel comfortable," Griffin continued. "Not only do we sponsor countless on-site activities, a variety of opportunities exist outside our property, too."
For example, Holy Cross Village seniors have access to wellness programs, a state-of-the-art fitness center, computer center, and creative arts center as well as a comprehensive library and lifelong learning opportunities offered through neighboring educational campuses. Thanks to the continuing care retirement community's affiliation with Holy Cross College, residents can even enroll in special continuing education classes.
"At Holy Cross Village, the doors are wide open for seniors to have an uncompromising quality of life," said Griffin.
A continuing care retirement community in Notre Dame, Indiana, Holy Cross Village is nestled among the landscaped campuses of Holy Cross College, the University of Notre Dame and Saint Mary's College. As such, it offers a rare combination of campus activities, inviting common areas, abundant amenities and activities, and a selection of senior living options—senior independent living villas and apartments, senior assisted living apartments, a skilled nursing center, and memory care suites.
A top choice for Indiana seniors, Holy Cross Village was recognized as one of the Best Nursing Homes by U.S. News & World Report in 2014. This notable honor signifies earning five stars in overall performance from the Federal Centers for Medicare and Medicaid Services.
Holy Cross Village is conveniently located just south of the Indiana Toll Road (Interstate 80/90). The community's office is located in Andre Place off Holy Cross Parkway at 54515 State Road 933 North. For more information or to schedule a visit, call (574) 251-2235 or visit online at http://www.HolyCrossVillage.com.