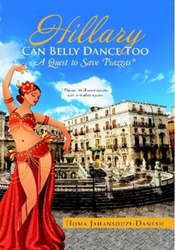 LOS ANGELES, California (PRWEB) April 08, 2016
An urban planner examines cities from ancient times to the present to promote developments that don't dehumanize, but instead, bestow dignity upon its citizens in the new book, "Hillary Can Belly Dance Too: A Quest to Save Piazzas *" (published by Lulu).
Author Homa Jahansouzi-Danesh hopes her efforts and the book will educate readers on cities and architecture, as well as save town squares, also known as piazzas. "I want to expose the reader to a humorous book full of fascinating facts and stories that illustrate how cities have gone wrong, but also document where and how, from ancient times to the present day, they have done right by their citizens. I also want to expose them to the traditional elements of cities, such as the town squares or piazzas, the narrow streets, the parks, the bazaars and the gates. I hope to illustrate how the future can build on smart choices, and move away from the unfortunate ones, towards cities that don't dehumanize, and instead, bestows dignity upon its citizens," she says.
From New York City, London, Paris, Mexico City and Tokyo to Cairo, Beijing, Bangkok, Jakarta, São Paulo, Mumbai, Calcutta, Tehran, Shanghai and other cities throughout the world, the author explores how to reverse the side effects of a dehumanized city.
"Hillary Can Belly Dance Too"
By Homa Jahansouzi-Danesh
Softcover | 5.83 x 8.26in | 294 pages | ISBN 9781483444871
E-Book | 294 pages | ISBN 9781483444864
Available at Amazon and Barnes & Noble
About the Author
Homa Jahansouzi-Danesh spent many years in Southern California where she completed her undergraduate studies at the California State University, Northridge, and Woodbury University. After working as an architectural and urban planning professional, she is working on a combined degree of a master's and doctorate in philosophy at Birmingham City University in England. More information is available at http://hillarycanbellydancetoo.wordpress.com.
Lulu empowers people of all ages to explore and express their interests, passions and expertise through books, photography and art. Since introducing self-publishing in 2002, Lulu has empowered creators in more than 225 countries and territories to produce nearly two million publications. Lulu Jr. allows children to become published authors, encouraging creativity, strengthening literacy and building self-esteem. Picture.com offers professional photography of collegiate and professional sports, memorable and historic events, fine art and home décor. For more information, please visit lulu.com.