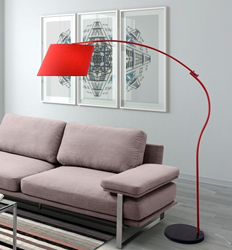 Unlike traditional floor lamps which are more or less made to blend into the background, arc lamps are a bold statement piece that's both physically large and visually arresting.
(PRWEB) February 26, 2015
HomeThangs.com – the Online Home Improvement Store has made their goal to deliver the right product to the consumer. With that in mind, shopping and home design tips, as well as special product selections are being introduced.
Traditional floor lamps are often more about functionality than style: they're a necessary evil for rooms with inadequate built in lighting, but though there are plenty of styles out there, the designs tend to be more or less similar. Arc lamps are the big exception, with totally unique, elongated designs that put a fresh modern twist on the form and make it more than just functional. HomeThangs.com has introduced a simple guide to arc lamps and why they're worth having.
The most obvious difference between arc lamps and traditional floor lamps is that instead of having a base that consists of a simple straight post, they have very long, curved arms with the light and shade hanging down from the highest point. On the surface, this makes them visually much more dynamic and compelling – they have a sense of movement and elegance that stiff, basic floor lamps lack. But it also makes them interestingly much more functional. Unlike floor lamps, which are often relegated to the far corner of the room (where, incidentally, the light the produce is the least useful), arc lamps stretch out into the center of the room and cast light downward as well as outward, increasing the functional amount of light they produce.
In many ways, arc lamps are more like built-in overhead lights than floor lamps, because they place the light closer to the center of the room, and are able to light key areas of the room. This also makes them a great choice for small spaces and particularly ones that can't be modified, like apartments, since they give better over-all lighting without the invasive construction and wiring needed to install a built in lighting fixture.
For more information about arc lamps and the best ways to use them, check out the full article here.
HomeThangs.com is not only a home improvement superstore, it also provides expert design tips and a comprehensive shopping guide, taking the ideas from professional interior designers, and offering tips to the consumers on how to pick the products to best suit their needs.