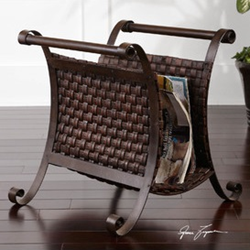 Really nice magazine racks will cost a little bit more, but they'll also do a better job of disguising magazines, and can add a nice decorative flair to a room.
(PRWEB) May 18, 2014
HomeThangs.com – the Online Home Improvement Store has made their goal to deliver the right product to the consumer. With that in mind, shopping and home design tips, as well as special product selections are being introduced.
Magazines are among the worst kind of clutter: not only are they unattractive to look at, but they can be difficult to get rid of, particularly ones that are read by the whole household. So for families with multiple magazine subscriptions, having a dedicated place to put incoming magazines is a vital part of keeping clutter in check. HomeThangs.com has introduced a guide to choosing the right kind of magazine rack to get the job done.
Simple, traditional magazine racks are slim and compact, designed to sit close to a piece of furniture, like a sofa or recliner, without taking up too much space. But while a cheapie wire or plywood rack will work, the nicer it looks, the better it will work, period. Really nice pieces will cost a little bit more, but they'll also do a better job of disguising the magazines, and can add a nice decorative flair to the space.
But magazine racks don't have to be standalone pieces; there are plenty of coffee tables and side tables that integrate this functionality into their design. A coffee table with slots for magazines on all four sides does the job of four magazine racks in the space of none, making it easy to find magazines while keeping them from cluttering up usable surface space.
There are lots of smaller side tables that have integrated magazine racks, too. One common trick is to essentially convert the table legs into a magazine rack, allowing magazines to be stored in the space between the legs that would normally be left empty. This type of table is great for putting alongside a recliner or in a small reading nook, as it not only stows a good number of magazines, but offers a petite surface that's perfect for setting down a cup of coffee or tea, or even a pair of reading glasses or a book.
For a family with a lot of magazine subscriptions, making sure the right mail gets in the right hands can be just as much of a problem. If this sounds familiar, it's worth investing in a mail sorter to put by the front door. These have separate spaces to store mail, books, or other small items for multiple family members to help make sure the right things get into the right hands every day, and important mail doesn't fall between the cracks.
Most magazine racks are designed to hide or at least disguise magazines, but the covers can also be used as decor, like a functional twist on pop art. Magazine covers with simple, striking graphics will work better for this than the weekly TV Guide, but placing any magazine in a translucent, colorful stand will draw the eye to it, giving it that simple designer flair.
HomeThangs.com is not only a home improvement superstore, it also provides expert design tips and a comprehensive shopping guide, taking the ideas from professional interior designers, and offering tips to the consumers on how to pick the products to best suit their needs.