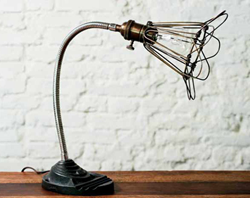 Steampunk style draws from an idealized version of Victorian England or the American Wild West, where steam is the primary source of power and the world is populated with steam-powered future tech.
(PRWEB) October 11, 2013
HomeThangs.com – the Online Home Improvement Store has made it their goal to deliver the right product to the consumer. With that in mind, shopping and home design tips, as well as special product selections are being introduced.
Originally a term applied to a specific type of science fiction, "steampunk" is an aesthetic that has permeated both fashion and home design. Steampunk style draws from an idealized Victorian England or American Wild West, where steam is the primary source of power and the world is populated with future tech re-imagined as it would have been designed in the 1800s. For those interested in incorporating steampunk elements into their home design, HomeThangs.com has introduced a beginner's guide to steampunk style.
The ideology that surrounds steampunk is a very optimistic one – based on an industrializing world with seemingly unlimited potential for invention. It's an aesthetic that's bright, cheery, and whimsical. One of the most common elements of a steampunk home is polished brass or copper – paneling, exposed pipes, sinks, and so on. Many people who go all-out with the design even incorporate more unusual objects, like copper distilleries, oversized brass clockwork room dividers, and so on. Because steampunk is based on steam power, exposed plumbing and huge, hefty air ducts are actually desirable design features – the more complex and intricate the designs, the better.
Steampunk homes are also filled with cogs, gears, valves, and dials. Like the exposed pipes, these don't have to be functional, or even imply a function – they're meant to evoke huge, sprawling clockwork machines. Some very elaborate steampunk homes are even designed to feel like the inside of a machine, like a zeppelin or a submarine. Sculptures of cogs and gears and old fashioned clock faces, or more elaborate, custom designed pieces are a great way to establish a steampunk style.
Short of turning a home into a living, breathing, steam powered airship, a steampunk design really lies in the little details. Rooms filled with stylized, steampunk inspired objects, like manual typewriters and old fashioned phones, bookshelves made out of steam pipes and so on all evoke a re-envisioned Victorian vibe. Many specialty designers even offer stempunk versions of modern items, like laptop shells, keyboards, monitor frames, or even a gramophone style speaker for phones or mp3 players. All these items borrow from 19th century design with a little extra mechanical twist.
In some places, steampunk design overlaps with the growing popularity of reclaimed industrial furniture. Both draw from industry and machines of similar time periods, and while steampunk designers tend to add a few extra widgets, the actual designs of the late 1800s and early 1900s are often so whimsical that the styles overlap. Simple industrial style furniture is relatively easy to find and mainstream enough to be a little more affordable than the majority of individually artisan made steampunk pieces.
Industrial style lighting is especially popular in steampunk design, and while the same stick-a-cog-on-it mentality still applies, exposed bulb lighting, pulley lights, and other antique factory lights are often so intricate and unique looking to start that they mesh perfectly with the design all on their own. Look for lights on pulley systems, with counterbalances, cages around antique bulbs, or scissor arms to get a look that's mechanically complex, whimsical, and functional – in other words, a perfect steampunk style.
To see examples of steampunk style rooms, check out the full article here, or some great industrial style furniture from Nuevo Living and Zuo Modern.
HomeThangs.com is not only a home improvement superstore, it also provides expert design tips and a comprehensive shopping guide, taking the ideas from professional interior designers, and offering tips to the consumers on how to pick the products to best suit their needs.