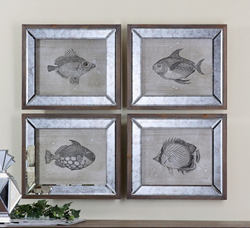 Fish themed decor items can also be used to add color to a room. Many species of fish have bright, beautiful, vibrantly colored fins and scales, and paintings that depict them make great accent pieces.
(PRWEB) March 23, 2015
HomeThangs.com – the Online Home Improvement Store has made their goal to deliver the right product to the consumer. With that in mind, shopping and home design tips, as well as special product selections are being introduced.
Incorporating fish themed decor into a room is a simple and easy way to establish a strong aquatic theme – whether it's beachy or nautical, reminiscent of a lakeside lodge, or even a straight fishing theme. But fish themed items can take a lot of forms, from as overt as a trophy bass to something a lot more subtle. HomeThangs.com has introduced a simple guide to sneaking a little fishy decor into a room.
A lot of fish themed decor tends toward the more realistic end of the spectrum – statues and paintings and that aforementioned trophy bass. But this look doesn't work well outside a very strong fishing theme or maybe a boat-centric ocean look. More subtle and abstract fish items are easier to blend with the surrounding room, and the less detailed and realistic they are, the more they'll give an impression of something vaguely fish like and aquatic rather than conjuring a very specific concrete image or setting. Fish paintings are especially good for this, as they can be very colorful and abstract while still conveying the essential fish theme. Statuary that incorporates driftwood also works well, particularly for a more general beach theme. Highly detailed drawings and figures certainly have their place, but in general the more minimalistic the representation of the fish, the better it will fit with a variety of interior designs.
For a more in depth look at choosing fish themed decor items, check out the full article here.
HomeThangs.com is not only a home improvement superstore, it also provides expert design tips and a comprehensive shopping guide, taking the ideas from professional interior designers, and offering tips to the consumers on how to pick the products to best suit their needs.