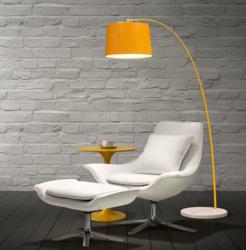 For color lovers, mixing and matching furniture in different shades or patterns of the same color is a great way to create a unified decor that puts color front and center.
(PRWEB) July 09, 2013
HomeThangs.com – the Online Home Improvement Store has made their goal to deliver the right product to the consumer. With that in mind, shopping and home design tips, as well as special product selections are being introduced.
The living room is one of the easiest rooms in the home to dress up with a little color, full of furniture and decor that's easily changed, moved, or replaced. HomeThangs.com has introduced a guide to five simple ways to get started.
It's almost always wise to start with a rather neutral baseline living room decor. Neutral carpets and wood flooring hide dirt and can make a living space look larger, while major purchases like a sofa should be neutral enough in color that they can easily blend with a changing space. Black, white, or any shade of beige or even gray will work. With a neutral backdrop, though, small decor items, botanicals, and artwork stand out beautifully, giving the space a more vibrant appearance.
In an overall neutral decor, adding a single bold, colorful piece of accent furniture will stand out like an exclamation mark. Red accents are a popular choice, but any color will work. A bold, colorful lamp or accent table can completely change the ambiance of a room – especially one done in light neutral tones - infusing it with a little life without replacing any major furniture.
Accent chairs, while a little more expensive (and taking up a little more floor space) are another great way to add a splash of color to a living space. A single piece of furniture won't overwhelm the space, even one done in a very bold color or funky pattern. For the color lovers, mixing and matching furniture (or cushions, pillows, or slipcovers) in different shades or patterns of the same color is a great way to create a coordinated, unified decor that puts color front and center. But even a single chair with the right accessories can do the same in a neutral decor.
Perhaps one of the simplest ways to add color to a living space is to paint one or more of the walls. Accent walls are easier to paint and easier to change up more often than a fully painted room, but either way, a simple coat or two of paint in a trendy color is maybe the most tried and true way to update a living room. For added impact, choose a bold color and accessorize with a contrasting color – either in the wall art, decor, throw pillows, or even fresh flowers.
Even the view from a living room window can help add color to an interior space. From posh cityscapes to sprawling ocean views or even just a dotting of trees, whatever large windows look out on can become a base color for the room. White walls can keep the space bright, allowing the view to take front and center, while simple decor items that match the view – wither it's a few botanicals or just a couple items in the right shade of sky blue – can really pull the beauty outside throughout the whole living space.
To find out how to get some of these great looks, read the full article here, or check out more home furnishings from Zuo Modern.
HomeThangs.com is not only a home improvement superstore, it also provides expert design tips and a comprehensive shopping guide, taking the ideas from professional interior designers, and offering tips to the consumers on how to pick the products to best suit their needs.