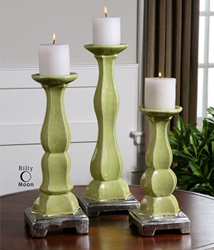 The rule of three is all about creating compact visual cluster; simply counting and rearranging existing decor items can make a huge difference.
(PRWEB) May 28, 2014
HomeThangs.com – the Online Home Improvement Store has made their goal to deliver the right product to the consumer. With that in mind, shopping and home design tips, as well as special product selections are being introduced.
The rule of three is one of the most important tricks in the design world, and applies to everything from architecture to table arrangements. Put simply, it's the idea that a cluster of three things is always more interesting looking than a bigger or smaller arrangement, whether it's bay windows or candlesticks. HomeThangs.com has introduced a guide to using this simple rule to subtly elevate the style of a room.
The first step in applying the rule of threes is to pinpoint existing clusters of decor items, like on the fireplace mantle, on accent or console table or coffee table. This counts for things that don't normally count as decor, too, like bathroom toiletries or jars or canisters in the kitchen. Wherever there's a group of more or fewer than three things, add or cull as needed. Try to choose items that coordinate in some way – multiples of the same kind of object, the same color, or just items that are thematically linked.
That said, while the items should have a similar look and feel to them to give the arrangement unity, they shouldn't be the exact size and shape. Varying the size and height of the three objects gives the cluster of items a staggered or tiered appearance that helps emphasize the items as a trio, gives the display a little height and shape, and makes the whole thing look more like an arrangement and less like haphazardly piled items. The easiest way to do this is, of course, to choose three items that are each a different height. But other items – like stacked books – can also be used to help stagger the heights of similarly sized items.
Typically the rule of three works best with three items that are the same color or in the same color range, but this isn't always the case. For a more colorful display, choosing three items that are each a different color can work, provided the items are visually linked in some other way – either items that are very similar in shape, thematically similar, or clearly part of a unified set. It's very, very important that the items clearly belong together at a casual glance, and choosing a multi-colored arrangement definitely makes that a little more complicated, as having too many colors can make the display feel busy.
In a small or limited space, the rule of three can even work for individual decor items, like candlesticks or small figurines that have three distinct, tiered parts. While technically a single item, these have the right composition. Decor items that mimic this three part design can all stand well on their own in a small space. They're also a great choice for anyone who dislikes the idea of buying an out of the box set-of-three decor items, but also isn't entirely confident with pairing or arranging items on their own.
The rule of three is often applied to either small decor items or large architectural features, like French doors, arches, or beams. But it can also be used to great effect with artwork as well. Admittedly, an abstract or mixed-and-matched collage of three might not be the best choice, but choosing matching paintings, photos, carved panels, or posters (either with the same theme, in a series, or a single image divided into three panels) not only provides a fantastic sense of balance and unity, it also keeps a cluster of artwork from feeling crowded, or what is ultimately a large painting or print from feeling too large for the room by adding in a little white space.
HomeThangs.com is not only a home improvement superstore, it also provides expert design tips and a comprehensive shopping guide, taking the ideas from professional interior designers, and offering tips to the consumers on how to pick the products to best suit their needs.