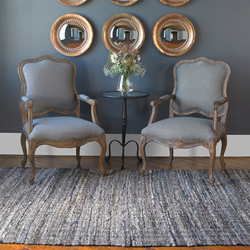 Opting for a slightly too small rug because it's less expensive is probably the biggest mistake homeowners make when buying a new rug.
(PRWEB) March 19, 2014
HomeThangs.com – the Online Home Improvement Store has made their goal to deliver the right product to the consumer. With that in mind, shopping and home design tips, as well as special product selections are being introduced.
Choosing a new area rug is never a simple endeavor – there are so many rules and opinions, many of them conflicting, that it can be intimidating even to start the search. HomeThangs.com has released a beginner's guide to the most important points to consider during the planning process.
The very first step in buying a new area rug is deciding what role it will play in the room. Area rugs can be used to soften (literally and figuratively) hard tile, wood, or concrete floors. They're softer and warmer underfoot and can help prevent sound from echoing. But rugs can also be used to help define spaces, separating out a cluster of furniture or creating an intimate conversation area. Rugs can be used to cover up sub-par flooring, or even as a purely decorative statement piece.
If counteracting cold, hard floors is the primary concern, a single rug might not be enough. Crisscrossing multiple rugs in different sizes and shapes is the only way to keep all the major walkways covered. On the other hand, visually unify a group of furniture is strictly a single-rug task. When covering up a low quality floor, the size of the rug will be the largest concern, while more decorative rugs should emphasize color, pattern, and material.
Next, it's crucial to have a solid idea of the dimensions of the space as well as any furniture that will be on top of the rug. The rug should be at least six inches wider than the sofa, with at least a 12″-18″ border of bare floor between the rug and all four walls, or, in a small room, about 6″-12″. A too-small rug will be dwarfed by the furniture, so it's important to know the exact size and shape of the living room set once it's set up.
Unfortunately, most area rugs come in only a few standard sizes, which means these measurements will rarely be perfect. As a rule of thumb, always round up to better fit the furniture, except when doing so would put the rug too close to the walls of the room. In a pinch, it's okay to have only two legs of the furniture on the rug rather than all four, but any smaller is simply too small.
Opting for a slightly too small rug because it's less expensive is probably one of the biggest mistakes homeowners make when buying a new rug. No matter how nice the rug, if it's too small, it will never quite work with the space. Very large rugs can be quite expensive, but it's worth waiting and saving to buy the bigger rug than settling for one that isn't quite large enough. To save money, rather than sizing down, shop around for less expensive materials or brand names to help make up for the extra cost of a larger rug.
A big, expensive area rug is a relatively long term investment, so it's important to shop around to find the best combination of appearance, quality, and affordability. The greatest variety of rugs can be found online, but it's worth at least dropping in on a physical store to get an idea of what various material options actually feel like. For those who love antique style rugs but are on a tight budget, many manufacturers produce faithful reproductions at a fraction of the price, so it really is worth shopping around.
For more tips on choosing a new area rug, check out the full article here.
HomeThangs.com is not only a home improvement superstore, it also provides expert design tips and a comprehensive shopping guide, taking the ideas from professional interior designers, and offering tips to the consumers on how to pick the products to best suit their needs.