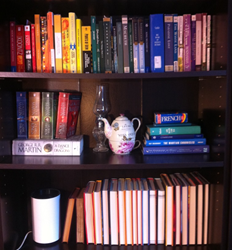 Creatively rearranging books can turn even the most basic shelf into something beautiful, turning necessary storage into an elegant and artistic display.
(PRWEB) January 28, 2014
HomeThangs.com – the Online Home Improvement Store has made their goal to deliver the right product to the consumer. With that in mind, shopping and home design tips, as well as special product selections are being introduced.
For true book lovers, from paperback devourers to seasoned rare books collectors, books and bookshelves are an essential and vital element of home decor. A perfect marriage of storage and display, bookshelves add a cozy, personal touch to just about any room. That said, depending on the book collection, they don't always produce a perfect old-world library look, and can even become a bit unwieldy. HomeThangs.com has introduced a simple guide to a few of the most effective ways to turn a big book collection into a beautiful, unique display.
The fastest, easiest way to turn an ordinary bookshelf into something really eye catching is to shelve the books on it by color. Choosing books with bright, boldly colored spines is best, but even black or white bound books with the titles printed in color work, too. Organizing either a single shelf or an entire bookcase by color creates a stunning, vibrant rainbow that's instantly eye catching and more visually appealing than the same books unordered.
Another great way to get a fresh, unique look out of the same old bookshelves is to turn books so they face pages out. Though of course this makes it a little more difficult to find books at a glance, it creates a gorgeous and appealingly unusual pattern. Any book will do, but the better quality the cover and the paper used, the better this will look. For the fullest effect, use hard cover books with hand cut pages, which have a really nice texture.
The notion of putting anything other than books on a bookshelf is nearly blasphemous for those with very large book collections, but one of the best ways to improve the appearance of a bookshelf is to do exactly that. Leaving a little white space between books makes them look a bit less monolithic, and makes it easier to look at (and locate) individual titles. Clearing off about 1/3 of a shelf and placing small decor items – vases, bookends, a small planter, or even a light – adds visual interest to the space, personalizing it and helping further break up a solid wall of books.
For really large book collections, especially ones in smaller homes, there might not be enough room to make some of these changes. But simply cleaning up the shelves – dusting, clearing any haphazardly lain objects, reshelving any loose books, and shelving any double stacked tomes – can make a surprisingly large difference in the overall appearance of the shelf. Clutter is a killer of home decor, and for those who frequently pull books off the shelves (and maybe don't put them away) a quick once-over can do wonders to turn a storage bookshelf back into a display.
Many of these projects involve reordering a book collection in such a way that they're less intuitively sorted, more difficult to find at a glance, or so that fewer are able to fit in the same amount of space. That said, picking one bookshelf, one technique, and enough books to fill that shelf, and putting it all together in a public area of the home is an amazing way to make a beautiful, personalized statement piece that's also completely practical. Plus, well organized shelves are attractive enough to be placed prominently, meaning it's even possible to wind up with more room for books with a little simple reordering.
HomeThangs.com is not only a home improvement superstore, it also provides expert design tips and a comprehensive shopping guide, taking the ideas from professional interior designers, and offering tips to the consumers on how to pick the products to best suit their needs.