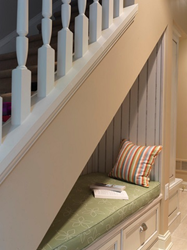 The space underneath a staircase can be the answer to many remodeling woes; there's about as much square footage hidden there as a large closet, and it can easily be redesigned and repurposed to fill a variety of needs.
(PRWEB) October 21, 2014
HomeThangs.com – the Online Home Improvement Store has made their goal to deliver the right product to the consumer. With that in mind, shopping and home design tips, as well as special product selections are being introduced.
In every house, there's wasted space somewhere – a spot that's underutilized, overlooked or even walled in. The area underneath a staircase is a prime culprit, but one that can easily be transformed to fill a variety of purposes. HomeThangs.com has introduced a new guide to a few ways to make the most of this overlooked area, and put that unused square footage to work.
At the simplest end of the spectrum, the area beneath a staircase can be transformed into storage. That can be something as simple as a storage closet, or as elaborate as bookshelves, drawers, cubbies, or even a full entertainment center, depending on the size and location of the staircase. HomeThangs.com's new guide takes an in depth look at each of these options, as well as the best ways to pull them off.
That same space can also be used for more extensive renovations that might otherwise require a full home addition. An average staircase hides plenty of empty space for a home office workstation, and many are even big enough that the inside can be converted into a half bathroom or powder room. Even a small staircase with a half-level landing makes a great hiding nook or playroom for small children.
The area underneath a staircase is also a great spot for a comfortable reading nook – a perfect alternative for a home without any bay windows. Depending on the size of the staircase, one of these little niche seats can even be used to accommodate overnight guests: just add a simple curtain for privacy and an overhead light for a makeshift "guest bedroom" in space that otherwise would have gone unused.
For a more in depth look at each of these options, and to see some gorgeous designs in action, check out the full guide here.
HomeThangs.com is not only a home improvement superstore, it also provides expert design tips and a comprehensive shopping guide, taking the ideas from professional interior designers, and offering tips to the consumers on how to pick the products to best suit their needs.