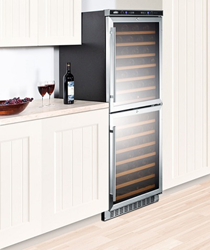 Full sized refrigerated wine cellars are best for large or valuable collections, but as little as a wine caddy or small wine rack are often plenty for small parties.
(PRWEB) May 12, 2014
HomeThangs.com – the Online Home Improvement Store has made their goal to deliver the right product to the consumer. With that in mind, shopping and home design tips, as well as special product selections are being introduced.
When it comes to entertaining, wine is one of the most traditional drinks there is. Since ancient times, sharing a glass of wine has been a sign of friendship and camaraderie. So it's never a bad idea to have a bottle on hand for surprise guests or special occasions. HomeThangs.com has introduced a guide to choosing a wine storage option to match a variety of collection sizes and entertainment styles.
Wine Refrigerator
Over the last few years, kitchens have really become the new entertaining hub of the home. So it's no surprise that compact wine refrigerators are one of the most popular luxury additions to these spaces. Like a more traditional wine cellar, these keep red and white wines at the ideal storing and serving temperature, which means they not only work well for pulling out a bottle at dinner, but also for longer term storage of a collection of between one to two dozen bottles.
Wine Table
Those who would rather share a bottle or two with a few close friends in a more traditional gathering space – like a living room or family room – should probably opt for something a little more svelte. Petite wine tables are accent tables that can hold somewhere between two and four bottles of wine, but also have built in grooves for storing stemware and occasionally detachable tops that double as serving trays as well. They're elegant little pieces that can be left in place on a day to day basis, but make it easy to pull out a bottle without breaking up a more intimate gathering.
Wine Caddy
For those who don't have much space to spare or simply don't entertain very often, it's often better to opt for a compact, decorative wine caddy rather than a full sized piece of furniture. These usually hold somewhere between one and three bottles of wine and simply sit on a tabletop. In terms of style, these run the gamut from elegant to positively kitschy, but are smaller, more portable, and less permanent than any of the other options on this list.
Wine Rack
A slightly larger wine rack is ideal for those who keep a bit more wine on hand – say in the neighborhood of a dozen bottles – but who aren't really collectors. These range from beautiful decorative pieces with wine-bottle-shaped shelves to simple consoles or cabinets that are only about as deep as the length of a wine bottle. They're also generally fairly compact (some smaller ones are even petite enough to be placed on top of a table), but nicely present a small collection of wine and keep the bottles close on hand for a party.
Wine Cabinet
True wine connoisseurs with very large wine collections (100+ bottles) should look for a piece of furniture that's both large enough to store all the wine and designed to show it off. Wine cabinets or bookcase style wine cellars offer exactly that: they can store a lot of bottles all at once, and usually have several different types of storage that allow bottles to be showcased in a variety of ways without sacrificing storage capacity. The biggest drawback to this type of setup is that it doesn't contain any kind of climate control, which means it isn't a great option for very valuable vintages, unless it's placed in a climate controlled room.
Wine Cellar
For those who do have very valuable vintages, short of a true wine cellar in the basement, the best storage option is a full sized wine refrigerator. Like the smaller kitchen versions, these wine cellars have several separate temperature controlled zones as well as UV-proof glass doors and stabilized shelves to further help protect the wine from damage. These heavy duty refrigerators are really the best option for semi-serious collectors and long term wine storage, keeping more than 100 bottles at the perfect temperature and ready to serve at a moment's notice.
For more unique ways to store a wine collection, check out the full article here.
HomeThangs.com is not only a home improvement superstore, it also provides expert design tips and a comprehensive shopping guide, taking the ideas from professional interior designers, and offering tips to the consumers on how to pick the products to best suit their needs.