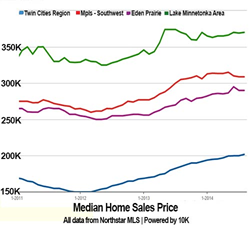 Borrower equity is important because home equity constitutes borrowers' largest investment segment and, as a result, is driving forward the rise in wealth for the typical homeowner. ~ CoreLogic
Minneapolis, Twin Cities Minnesota (PRWEB) September 26, 2014
Disproportionate increases in the median sales price of homes in the Twin Cities indicate that home equity gains are flowing mainly to more affluent homeowners. CoreLogic's recent Home Equity Report provides a quarterly overview of the distribution of equity across all U.S. single-family residential properties with an existing mortgage. Combined with local housing data, it becomes clear that Twin Cities home equity gains are beefiest in affluent households.
"One example of trends in median home sales prices, within Minneapolis - St Paul 13 county residential neighborhoods, is found in the Calhoun-Isle community. Nestled in the heart of the metro, the Bryn Mawr neighborhood is experiencing an aggressive home price recovery", says Jenna Thuening, owner of Home Destination. "According to the Minneapolis Area Association of Realtors (MAAR), Bryn Mawr home prices are at a new benchmark. The median home price climbed to $361,250 in August, which is a remarkable 19.4 percent year-over-year increase."
Increasing home prices are leading to improvements in home price equity, which empowers existing homeowners to sell their existing home and move to another home. CoreLogic reports that 949,000 properties nationally have regained positive equity status in quarter 2 of 2014. If the current rate of improvements in median home sales prices adds an additional 5%, a further 1.0 million homes will regain equity.
For a more accurate perspective, the best overview of Twin Cities single-family home price trends is to measure residential real estate activity over a length of time. Numbers below were derived from September 25, 2014 Northstar MLS Twin Cities housing data and cover the last 12 months:
Increases in Median Sales Price for Single Family Homes in the Twin Cities:

Entire Twin Cities Region +9.1%, increased to $201,800
Minneapolis +11.7, increased to $202,250
Eden Prairie +4.9%, increased to $290,000
Plymouth +3.7, increased to $306,307
Minneapolis – Southwest Region +1.2% at $308,750
Minnetonka +7.6%, increased to $339,000
Minnetrista +3.7, increased to $438,000
Edina +4.7 %, increased to $366,500
Wayzata +20.0% at $451,625
Tonka Bay +19.7%, increased to $570,000
Minnetonka Beach +94.8%, increased to $1,305,400
Nationally, 94% of the homes with a price tag of $200,000 or more have increased equity; 84% of homes with a value under $200,000 have increased home equity, reports CoreLogic. When the prices of high-value properties are climbing faster than the prices of low-value properties, the value-weighted indexes will show faster rates of home appreciation. The strongest growth in home equity and median sales price found in the Twin Cities is in the luxury home sector.
The Federal Reserve Bank made an comment in May, 2013 that sheds light on the distribution of home price gains: "Even more important than inflation and growth adjustments, the distribution of house-price gains—that is, which house prices are increasing faster and which slower—determines how broad the housing-driven wealth recovery will be".
"The Twin Cities housing market recovery tends to be uneven," comments Thuening. "We will continue to watch the progress of home equity gains and expect patterns to remain the same through the year's end, though perhaps at a slower pace."
About Home Destination - Twin Cities Real Estate:
Home Destination offers a loyal and committed real estate professional service that personally handles all of the details of selling or purchasing a Twin Cities home. Highly regarded by peers as a Minneapolis metro expert for over 15 years, gain a skilled representative as guide to make the best possible housing decisions. From all home buyer types, across all price ranges who are seeking to buy or sell a Twin Cities home, Jenna Thuening has the real estate experience and acumen buyers and sellers benefit from.
Contact:
Jenna Thuening
Web. http://www.homedestination.com
Email. jenna(at)homedestination(dot)com
Tel. 612-396-7832