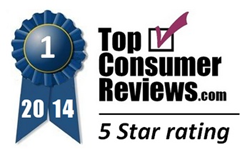 We're honored to receive TopConsumerReviews.com's highest rating... We appreciate being recognizing for our hard work!
Overland Park, KS (PRWEB) June 16, 2014
TopConsumerReviews.com recently awarded their highest five-star rating to LendingTree, LLC a leading online home equity loan marketplace.
"We're honored to receive TopConsumerReviews.com's highest rating," said Foster Whitney, Account Manager at LendingTree. "At LendingTree we've created a Website that educates our customers on the home equity process. With our strong list of lending partners we're able to meet the needs of people looking to refinance their mortgage with cash out or draw equity out of their current home by either a home equity loan or a home equity line of credit. We appreciate being recognizing for our hard work!"
Home equity loans are a great way to use equity in an existing home to finance a major purchase, remodel a home, pay off debt, and more. The days of being limited to the home equity products only at a local bank or mortgage company are a thing of the past. A long list of home equity companies exist today and are only a few clicks away. Finding the best home equity product for you is as simple as getting online.
"LendingTree is a one stop shop for home equity products," explained Brian Dolezal, of TopConsumerReviews.com, LLC. "Their superior Website allows customers to quickly and efficiently find a list of the home equity lenders to meet their specific needs. LendingTree's strong reputation, expertise, and years of service in the mortgage business have helped millions of customers successfully refinance their mortgage to pull equity out of their home, obtain a home equity loan, home equity line of credit or to purchase a home. Once a person uses LendingTree for home equity, home mortgage, or home refinance, it's hard to consider going anywhere else."
To find out more about LendingTree and other home equity companies, including reviews and comparison rankings, please visit the Home Equity Loan category of TopConsumerReviews.com at http://topconsumerreviews.com/home-equity-loans/.
About LendingTree
LendingTree is a free, no-obligation service that will empower you to take control of your financial life. We have the interactive tools, personalized advice and comprehensive resources you need to successfully manage your finances. If you're looking for a loan, we can connect you with multiple lenders who'll compete for your business and provide customized loan offers. If you need help with your finances, we have a powerful suite of tools and personalized advice to help you budget your money, get out of debt, and boost your savings. For all your financial decisions, LendingTree can help you every step of the way.
About TopConsumerReviews.com
TopConsumerReviews.com is a high quality professional review site, which means we pay individuals to provide candid feedback about the products they review. We are a leading provider of independent reviews and rankings of hundreds of consumer products and services. From home equity loans to debt relief programs and home security systems, TopConsumerReviews.com delivers in-depth product evaluations in order to make your purchasing decision easier.