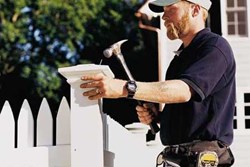 Installing a fence increases security at homes, protect children and provide increased privacy with these excellent tips from the experts at securitysystemreviews.com.
Memphis, Tennessee (PRWEB) September 27, 2013
Many homeowners opt to install an outdoor fence for a number of reasons. Fences provide style and architectural detailing to an outdoor area, and they can also provide a safe play area for pets and animals. Additionally, high-quality fences can serve as a deterrent to burglars and home intruders. The home security specialists at SecuritySystemReviews.com, a site that provides reviews of the best home security system companies, put together a list of tips for homeowners to use in order to select the ideal outdoor fence.
Security System Reviews is a leading provider of information and reviews for the home security industry, including FrontPoint Security reviews and Protect America reviews.
1. Consider if the fence will be used for privacy or protection. Fences that are used for privacy may not be optimal for protection, because a privacy fence can also provide a burglar cover to break into a home. A privacy fence is typically taller, and is more difficult to dig underneath or scale. Privacy fences typically have boards that are placed very close together, in order to block the view of the yard from outsiders.
2. An important consideration in the selection of a fence is the materials that will be used. There are certain materials, like metal that is used in most chain link fences, that are easy to care for but don't provide a very appealing look to most homeowners. More stylish and attractive fence materials, such as wood, are often more difficult to care for and require more overall maintenance. They also tend to provide less security from intruders. Other fence materials that require very little maintenance include brick and masonry fences, plastic, vinyl and prefabricated materials.
3. Before installing a fence, a homeowner should ensure that they are aware of the property boundaries, in order to avoid intruding on a neighbor's property.
4. It's important for homeowners to know local building codes before deciding on a fence. Codes may depend on city or country regulations, or neighborhood association guidelines. Many communities have set guidelines on factors such as height, placement and setback.
5. Know what is underground on property before beginning the construction of a fence. There are a number of utilities systems that are run underground, such as gas and water lines, so a homeowner should be fully aware of what's underneath the area that a fence will be placed, to avoid a potentially costly and dangerous situation.
About SecuritySystemReviews.com
SecuritySystemReviews.com is the leading provider of security system facts and security system pricing information. The site is an independent, third-party resource for consumers considering the purchase of a home security system.