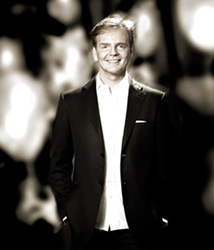 We see in Christopher Guy Harrison a shining role model for young creative professionals who seek to make a lasting mark on the world.
Los Angeles, CA (PRWEB) May 07, 2014
Otis College of Art and Design is honored to announce that renowned designer Christopher Guy Harrison will receive an honorary doctorate at the graduation of the 2014 class on May 11, 2014. Otis commencement ceremonies will be held on the college's main campus at 9045 Lincoln Boulevard, Los Angeles, California.
A modern-day design legend, Christopher Guy Harrison is an internationally renowned designer whose luxury furnishings brand Christopher Guy is known for its elegant fusion of contemporary mood and classic values. A few years after selling his first mirror frame at Harrods in London in 1994, Harrison established vast workshops in Indonesia. Within a decade, the Christopher Guy brand of luxury furnishings and decorative lifestyle accessories was a global sensation, with showrooms in more than 40 cities throughout North America, Europe, Asia, and the Middle East. Christopher Guy creations adorn grand hotels and luxury resorts around the world, and have appeared in such Hollywood movies as Casino Royale and The Devil Wears Prada. Harrison has garnered numerous awards, including the 2004 Outstanding Design award by the British Interior Design Association, and the 2011 Design Icon award by the Las Vegas Design Center and World Market Center.
"At Otis, we see in Christopher Guy Harrison a shining role model for young creative professionals who seek to make a lasting mark on the world," says Otis Provost Kerry Walk. "His work, the very symbol of elegance, has inspired a generation of designers and earned the appreciation of a global audience."
Born in Britain but raised in Spain and France, Harrison currently resides in Singapore, London, Los Angeles, and New York. As he states, "My international background allows me to draw on inspiration from everything I experience around me, taking elements from different periods of history and transforming them into designs of what I hope are elegance and sophistication."
In conjunction with Commencement, Otis College of Art and Design's Annual Exhibition, May 9 -11, is open to the public, and showcases work by all members of the Class of 2014. Communication Arts senior George Martinez has been named Valedictorian. George has focused on graphic design in both digital and traditional formats. An army veteran who spent five years in Iraq, George is a natural leader who has initiated award-winning independent collaborative projects.
OTIS ANNUAL EXHIBITION
May 9 -11, 2014
9045 Lincoln Blvd Los Angeles, CA 90045
Free parking off La Tijera Blvd.
(310) 665–6800
http://www.otis.edu/annual-exhibition
ABOUT OTIS COLLEGE OF ART AND DESIGN Established in 1918, Otis College of Art and Design is a national leader in art and design education. The College mission is to prepare diverse students of art and design to enrich our world through their creativity, skill, and vision. Alumni and faculty are Fulbright, MacArthur, and Guggenheim grant recipients, Oscar awardees, legendary costume designers, leaders of contemporary art movements, and design stars at Apple, Abercrombie & Fitch, Pixar, DreamWorks, Mattel, Nike, and Disney.
Otis enrolls approximately 1,100 full-time students, and offers Bachelor of Fine Arts degrees in Architecture/Landscape/Interiors, Digital Media (Game and Entertainment Design, Animation, and Motion Design), Fashion Design, Communication Arts (Graphic Design, Illustration, and Advertising Design), Fine Arts (Painting, Photography, and Sculpture/New Genres), Product Design, and Toy Design. Otis also awards the Master of Fine Arts degree in Fine Arts, Graphic Design, Public Practice, and Writing.
The five-acre main campus is located on L.A.'s Westside near the beach and LAX; Fashion Design is in the heart of the downtown fashion district; and the Graduate Studios are on the Creative Corridor in nearby Culver City, and in the 18th Street Arts Center in Santa Monica.
2,700 adults and children participate in Continuing Education art and design classes and workshops.
Additional information is available at http://www.otis.edu.