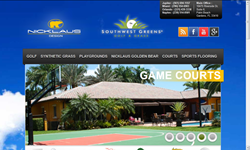 Explaining how homeowners can take advantage of their outdoor space
(PRWEB) April 18, 2015
Offering excellent installation of synthetic grass and artificial putting greens, Southwest Greens has now become synonymous with quality, professionalism and impeccable services. Based in Palm Beach Gardens, Florida, the leading supplier of playground surfaces, tennis courts, basketball courts, synthetic grass, and artificial putting greens ensures to provide its clients with the kind of services they have been always looking for, courtesy to its quality products and equally immaculate installation services. Southwest Greens is now offering home putting green installation services to homeowners who want to beautify and utilize their vacant space to the fullest.
Explaining how homeowners can take advantage of their outdoor space, a senior company official stated, "Think of it as functional landscaping. Not only is it beautiful to look at, you can play on it. Backyard putting greens are great for entertaining and improving your game. Bocce ball courts are a blast with friends and family. Synthetic turf putting greens and bocce courts are low maintenance to boot. Every job is custom designed and unique to fit each backyard."
Southwest Greens collaborates with Jack Nicklaus to extend its premier offering, i.e. Nicklaus Golden Bear Turf, to interested businesses and homeowners in and around Florida. Their track record speaks volumes about their expertise and core competencies.
The senior official working for Southwest Greens added, "Although these projects can be expensive, compared to what people spend trying to maintain natural landscaping at high standards, these synthetic turf amenities provide much more bang for the buck. Those who want to own their very own putting green but require financial assistance to realize their dream can benefit from the deferred payment program, courtesy to our relationship with Shaw Industries and GE Capital."
Since professionals working for the company know how to install synthetic grass so as to minimize waste and maximize the use of vacant spaces, they are the best people to contact for such installations. Accordingly, in Home Putting Green Florida http://www.swgreens.com/residential-grass/ market segment, Southwest Greens finds itself among the forerunners for sure.
About Southwest Greens:
Southwest Greens in Florida takes immense pride in offering a slew of solutions to businesses and homeowners who intend to avail or install artificial putting greens, playground surfaces, synthetic grass, tennis courts, basketball courts, Nicklaus Golden Bear Turf, or golf tee lines. Since 2002, the company has been doing wonderful job in meeting and going beyond the expectations of its clients looking forward to install synthetic putting green turf with a difference. Similarly, for clients looking for the best synthetic grass warehouse in Florida cannot ask for anything better than Southwest Greens.
Contact Information:
Southwest Greens
10475 Riverside Dr,
Suite 6,
Palm Beach Gardens, FL 33410
Office: (561) 694-1557
Website: http://www.swgreens.com/
# # #