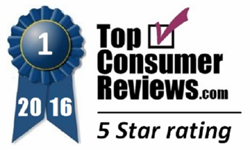 Bowflex is a household name in Home Gyms, and with good reason... (they are) our top choice for Home Gyms in 2016.
Overland Park, KS (PRWEB) December 05, 2016
TopConsumerReviews.com recently gave a best-in-class 5 star rating to Bowflex, a leader among online sellers of Home Gyms.
Getting in shape is a popular goal, as seen by the influx of new gym memberships right after the holidays and the numerous commercials advertising the latest get-fit products. However, it can be challenging to make a well-informed decision as to the best approach to gaining strength and toning muscles. Local gyms and fitness centers often have inconvenient hours, or the machines are always occupied during the busiest times of the day. Home gyms are an easy way to workout according to one's own schedule, and shopping online makes it easy to find the most reliable, effective home gyms on the market.
"Bowflex is a household name in Home Gyms, and with good reason," stated Brian Dolezal of TopConsumerReviews.com, LLC. "For more than 20 years, Bowflex's resistance-based gym systems have been helping people get a great workout in the comfort and privacy of their own homes. Bowflex offers an impressive amount of weight resistance - up to 600 pounds - with a total of 100 different exercises that can be done using the equipment. Shipping is free, and pre-approved financing is available for most customers. Built by fitness experts and backed by an excellent guarantee of a minimum of 5 years, Bowflex is our top choice for Home Gyms in 2016."
To find out more about Bowflex and other online retailers of Home Gyms, including reviews and comparison rankings, please visit the Home Gyms category of TopConsumerReviews.com at http://www.topconsumerreviews.com/home-gyms/.
About Bowflex
Bowflex is a part of the Nautilus brand family. Headquartered in Vancouver, Wash., Nautilus, Inc. is a global fitness solutions company that believes everyone deserves a fit and healthy life. With a brand portfolio that also includes Nautilus, Octane Fitness, Schwinn and Universal, Nautilus, Inc. develops innovative products to support healthy living through direct and retail channels as well as in commercial channels with Octane Fitness products.
About TopConsumerReviews.com
TopConsumerReviews.com, LLC is a leading provider of independent reviews and rankings of hundreds of consumer products and services. From Home Gyms to Workout Programs and Elliptical Machines, TopConsumerReviews.com delivers in-depth product evaluations in order to make purchasing decisions easier.