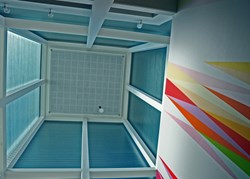 Savannah, GA (PRWEB) September 26, 2013
Every fall the Hospice Savannah Art Gallery hosts a silent auction of miniature masterpieces donated by a multitude of local artists. This year is no exception. The 5th Annual 5 by 7 show is hung, bids are being taken, and the judge has made her selections.
Courtney McNeil, Telfair Museums' Curator of Art, recently judged the 2013 show and chose four winners: Bob Paddison's photograph, "SCAD Tower"; Betsy Cain's frayed painting "summer blue #1, shredded"; Atlantan James Atwood's photograph "Misty Morning Practice"; and Dana Richardson's mixed media "Tennessee." Courtney selected Daniel E. Smith's oil "Hospice I", one of a set of three marsh scenes donated by this acclaimed painter, as "Best in Show."
Retired banker Bob Paddison has been a long-time supporter of Hospice Savannah. In fact, his wife Philippa was responsible for designing the hospice's first logo when it opened in 1979. He volunteered for 23 years at DeRenne Middle School teaching black and white photography, dark room skills and, eventually, digital photography. His winning image was taken shooting towards the ceiling of the tower in the SCAD Museum of Art. Dana Richardson is the art teacher at Savannah Christian's high school. She had come to the Auction in the past but never contributed before. She likes her winning piece "Tennessee" because it embodies many of the elements she teaches her students: the encaustic process, photography, drawing and painting.
Marketing Director, Beth Logan, was thrilled with this year's response to her call-for-entries. "In total over 100 artists donated 154 pieces. What I love about this show is that there is such a spectrum of talent and experience on display. We have ceramics, encaustics, photography, oils, watercolors, acrylics and even quilting represented. I like that our employees and volunteers have donated work and that everyone has the opportunity to take home an original piece of art. Bidding starts at just $35 – in honor of Hospice Savannah's 35 years of not-for-profit service to our community."
All proceeds support the many "extras" Hospice Savannah provides patients and families that are not covered by the Medicare hospice benefit. These include the complementary therapies of massage, music therapy and story keeping; grief counseling provided at no charge to individuals and to groups of children, teens, and adults at the hospice's Full Circle grief and loss center in Savannah and also in Richmond Hill and in Rincon; the annual overnight children's grief camp; and the Pet Peace of Mind© program.
The Annual 5 by 7 Art Auction is one of the city's most fun art events. The public is warmly invited to attend the closing reception on Friday, October 18 from 5:30 to 7:00 p.m. At 6:30 p.m. Courtney McNeil will make remarks about her winning selections and award prizes donated by Blick Art Materials, bar food in Habersham Village and by Trends & Traditions custom framing. The Gallery will be thronged with patrons but bidders do not need to be present to win – so they are encouraged to bid high if there is a piece they really want! Final bids will be taken at 7:00 p.m.
For more information please visit http://www.HospiceSavannah.org/ArtGallery or contact Beth Logan, Director of Marketing at 912.355.2289.
About the company:
A designated agency of the United Way of the Coastal Empire, not-for-profit Hospice Savannah, Inc. is the oldest and most recognized hospice in the Coastal Empire serving over 200 patients every day in Chatham, Bryan, Effingham, Liberty and Long counties. More information can be found at http://www.HospiceSavannahHelps.org.
Hospice Savannah, Inc.provides the community with the best services and resources on living with a life limiting illness, dying, death, grief and loss.
Medicare, Medicaid and most private insurance will cover Hospice Savannah's care; however, care is provided regardless of ability to pay. To start the process of receiving hospice care from Hospice Savannah at home, simply call the referral center at 912-355-2289.