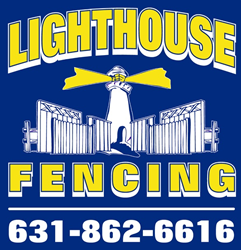 Planning Now for Spring Landscape and Garden Improvements Will Make Budgeting Easier says Lighthouse Fencing
St. James, New York (PRWEB) December 29, 2013
Lighthouse Fencing, a Long Island fence company and repairs, is recommending that any home or business owner looking to do make any landscaping or gardening improvements in the spring should keep their eyes peeled for post-holiday bargains.
It happens every spring, homeowner's eager to put the cold weather behind them and want to start planning for warm summer days lounging in their backyard or entertaining. Invariably, unless the landscaping was completely re-done the year before, there will be certain facets of the yard and landscape that will be on the list for improvement or replacement. Home improvement stores and garden shops know this and are planning on making a nice profit when the spring arrives. The team at Lighthouse Fencing understands this but they also know that pre-spring sales on non-living materials can offer considerable savings to the home or business owner who is willing to buy now and store the materials until the work can commence.
No-one has an unlimited budget and in the ongoing economic climate, the wise consumer will look to make every dollar stretch to its limits and extract every penny of value they can. When the project is a home improvement project involving material such as fencing, masonry, water features or even lumber for projects such as deck and pergola construction, these all involve material that can be bought ahead of time and stored until the climate is right for work to begin. By shopping around now, savvy consumers can maximize the value they receive while saving money along the way.
The team at Lighthouse Fencing has spent the last 10-plus years working with home and business owners in making their homes and places of business beautiful and inviting. They understand that every penny counts and they want to ensure that their clients get the best value for their money while seeing their dreams become reality. The vital aspect of this whole process is knowing when to buy certain types of material to take advantage of off-season pricing. In making these initial purchases earlier, the cost savings could be gratifying. Another benefit of pre-season purchases is that trendier colors and styles will be easier to order before the rush of people to buy what is available. For those looking for the status of being the first in the neighborhood with a certain look, this is a strategy that will always pay dividends.
Lighthouse Fencing, based in St. James on Long Island, was established in 2001 by Chad Drechsler. Serving Suffolk and Nassau Counties, they provide superior fencing services including PVC Vinyl Fence installation of Stockade Fence, Chain Link Fence, Decorative Wood Fence, Aluminum Fence, Ornamental Fence, Deer Fence, Railings, Estate Fence, Arbors, Pergolas, Automated Entry Access, Horse Fencing and Decks. Additionally, they repair existing fences and also offer masonry work, patio and pool installations, on-site welding services as well as snow removal service in the winter months. They can be contacted for estimate by phone at 631-862-6616 or online http://www.longislandfenceco.com.