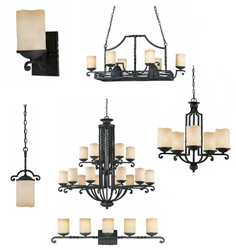 Rather than giving up up on the perfect design for a light that fits, large design collections mean that the perfect style is available in a variety of sizes, shapes, and installations so that it can fit just about any room.
(PRWEB) May 11, 2014
HomeThangs.com, the online home improvement store, has made their goal to deliver the right product to the consumer. With that in mind, shopping and home design tips, as well as special product selections are being introduced.
Choosing a new lighting fixture can be a somewhat daunting process. The sheer number of options available can be overwhelming, so it's important to have a good way to narrow down the options. One of the simplest but most overlooked ones is to seek out brands that offer large collections of lighting fixtures in the same style. HomeThangs.com has introduced a guide to why having the choice of several fixtures in different sizes, shapes, or installation types can make it easier to choose just the right one.
Lighting Scale
Choosing a lighting fixture that's the right size is hugely important. The size determines not only how well the light will actually fit in the room, but also how much light it will produce. Finding a light that simply looks great isn't enough if the size doesn't match up. But shopping from brands like Triarch International that offer large collections means it's possible to size the same style of light up or down to fit the scale of the room. Instead of having to give up on the perfect design for a light that fits, that perfect design is available in a variety of sizes, shapes, and installations so that it can fit just about any room.
Layered Lighting
The larger the space being lit, the more lights are needed to get the job done. Using multiple different types of lights to maximize task lighting, ambient lighting, accent lighting, and so on is called layering lighting, and it's one of the best ways to visually enhance a room, particularly a large one like a big living room, great room, or a large open kitchen. Layering several different types of lighting fixtures allows each one to show their strengths – sconces for lighting corners, a chandelier for show, island lighting for an island, a swing arm lamp by a reading chair, and so on. Choosing lighting fixtures that are all from the same design collection will also help keep the space looking coordinated and visually unified in a way that mismatched lights simply won't.
Matching Lighting
Buying fixtures from a larger collection is also a good idea for more extensive lighting upgrades, particularly ones that extend beyond a single room. While having matched (or mismatched) lighting fixtures throughout the house isn't quite as obvious as it is in a single room, it is a great, subtle, almost subliminal way to unite a home's decor. In the same way coordinating finishes in one room helps create a visual unity, having matching lighting fixtures in every room of the home is a great way to establish a distinctive style and give the house a subtle sense of polish. The more extensive the design collection, the easier this is to do, as it's possible to find lights in different sizes and types to fit a variety of different spaces, from a grand entrance to a small hallway, bedroom, or bathroom.
Theme Lighting
For those in the market for a really distinctive lighting theme, it's particularly worthwhile to seek out manufacturers that produce a wide variety of types of lights in the same style. If matching regular lights is difficult, coordinating a very unusual look across multiple brands is almost impossible. The drawback, of course, is that companies that offer very extensive design collections often have fewer base designs to choose from, so finding a really unique style might require a bit more hunting.
To find out more about using coordinated collections to build a new lighting design, check out the full article here.
HomeThangs.com is not only a home improvement superstore, it also provides expert design tips and a comprehensive shopping guide, taking the ideas from professional interior designers, and offering tips to the consumers on how to pick the products to best suit their needs.