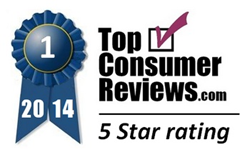 We're honored to receive TopConsumerReviews.com's highest rating... we're excited to be recognized for our work.
Overland Park, KS (PRWEB) May 13, 2014
TopConsumerReviews.com recently awarded their highest five-star rating to LendingTree, LLC a leading online home loan marketplace.
"We're honored to receive TopConsumerReviews.com's highest rating," said Foster Whitney, Account Manager at LendingTree. "We're here to make the tedious process of finding a home loan easier than ever. Our interactive website quickly and efficiently matches home buyers with lenders that will work with their mortgage loan needs. Our easy-to-use website coupled with our large network of lending partners means our customers are able to find the right home loan to fit their needs. We're excited to be recognized for our work."
Every home loan is different. Not only the interest rate and length of the loan, but the associated points and service fees can vary dramatically. Finding the best, most affordable home loan means more money in the pocket of the home owner. Before calling the local bank or using the most recent lender, home buyers should consider making a smarter move first. A number of companies exist online today to provide the best rates for home loans available in the market. The best part is that borrowers can find those loans from the convenience of their computers.
"When looking for a home loan, LendingTree should be your first stop," explained Brian Dolezal, of TopConsumerReviews.com, LLC. "They have created a service that is second to none and their strong reputation means you can feel confident using them to find your next home loan. The LendingTree Website is educational for the first time home buyer, yet sophisticated enough for those that already own a home. If you're in the market for a new home, LendingTree takes the stress and hassle out of trying to find the best, most affordable home loan option."
To find out more about LendingTree and other home loan companies, including reviews and comparison rankings, please visit the Home Loan category of TopConsumerReviews.com at http://topconsumerreviews.com/home-loans/.
About LendingTree, LLC
LendingTree, LLC is the nation's leading online source for competitive home loan offers, empowering consumers during the mortgage, refinance or auto loan process. LendingTree provides an online marketplace which connects consumers with multiple lenders that compete for their business, as well as an array of online tools and information to help consumers find the best loan. Since inception, LendingTree has facilitated more than 30 million loan requests and $214 billion in closed loan transactions. LendingTree provides access to lenders offering mortgages and refinance loans, home equity loans/lines of credit, and more. LendingTree, LLC is a subsidiary of Tree.com, Inc.
About TopConsumerReviews.com
TopConsumerReviews.com is a high quality professional review site, which means we pay individuals to provide candid feedback about the products they review. We are a leading provider of independent reviews and rankings of hundreds of consumer products and services. From home loans to credit repair and debt relief, TopConsumerReviews.com delivers in-depth product evaluations in order to make your purchasing decision easier.