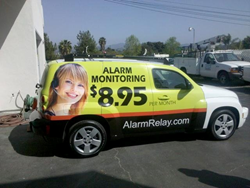 San Diego, CA (PRWEB) June 09, 2014
Alarm Relay, Inc. states, in their newly released article, that contrary to the MSN article, homeowners can protect their homes for less than they might think. Between do-it-yourself alarm installation and a low cost monitoring company, homeowners can protect their family at an affordable cost. Also addressed is the problem of false alarms. False alarms can be costly and annoying to neighbors and local law enforcement. However, as Alarm Relay points out, having a monitored service helps cut down on false alarms by coaching homeowners on how to use their system properly and contacting the homeowner before sending in the authorities when an alarm is triggered.
Closely related to false alarms is the idea that an alarm will be ignored by neighbors or passers-by. This is irrelevant for a monitored alarm system, unlike an unmonitored system, it doesn't rely on someone else to contact the police. The purpose of the alarm monitoring company is to determine if there is an issue and contact the authorities.
It is an outdated notion that a burglar can just cut the phone line to disable the system. With new advances in internet and cellular technology, cutting the phone line will only disable one avenue of notification. By installing a back up communicator on the existing system, the alarm monitoring company can be notified through an internet or cellular connection.
"14 Reasons Monitored Home Security Is Worth It", teaches consumers that there are trustworthy, affordable monitoring companies who can help you protect your home, your property and your family.
For more information, visit http://www.alarmrelay.com, or call (800) 762-9964.
About Alarm Relay
Since 1972, Alarm Relay has been providing customers with fast, accurate and responsive monitoring service every hour of every day. For the past 10 years, Alarm Relay has been a UL Listed Central Station and currently holds an "A" rating with the Better Business Bureau. Alarm Relay's technicians are the best in the industry and provide critical support to dispatchers and customers nationwide.
Contact:
Alarm Relay
http://alarmrelay.com
(800) 624-6866
Media contact
Camber Scanlon, Alarm Relay, Inc.
(619) 442-9595 x142