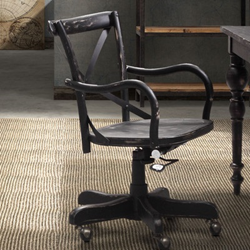 In a cloffice, office supplies can be spread out and left in place, but kept entirely out of sight and out of the way simply by closing the closet door when the desk isn't being used.
(PRWEB) May 13, 2014
HomeThangs.com – the Online Home Improvement Store has made their goal to deliver the right product to the consumer. With that in mind, shopping and home design tips, as well as special product selections are being introduced.
In many ways, the age of the full sized home office has come to an end; by and large having a fully functional office in its own dedicated room is rapidly becoming a thing of the past. But while big home offices are going the way of the dodo, that doesn't mean home offices in general are. In fact, more people are occasionally working from home than ever before – they just want compact, concealable work spaces that won't take up a whole room. HomeThangs.com has introduced a guide to one of the best ways to get it: by turning a closet into a cloffice.
A cloffice is just what it sounds like: a closet that's been converted into an office. Just about any sized closet will do, no matter how small: simply set up a desk or install a shelf at desk level inside the closet and build up shelves above it and to either side of the door frame. This makes for an impressive amount of work and storage space – only a little less than a full sized desk with a big filing cabinet.
One of the worst things about trying to work in a public area of the house is that it's impossible to ever get fully settled – paper and pens have to move at dinner time, books and folders have to be continually hauled out and put away. But in a cloffice, office supplies can be spread out and left in place, but kept entirely out of sight and out of the way simply by closing the door when the desk isn't being used.
Admittedly, traditional style doors can get a bit in the way, either of the person using the cloffice or the surrounding room. Installing a pocket door is the most effective way to get the door out of the way, either a traditional one that slides in and out of the surrounding wall, or a more modern style that tucks in flat against either side of the closet. Accordion style folding doors are another popular option, as they take up less space than a regular door, particularly when covering a larger closet.
For a very small closet or a more budget-friendly conversion, simply remove the existing door and hang a little curtain rod at the top of the door frame. The rod can be built in and concealed or a simple tension bar from any craft supply store. A full length curtain will serve the same purpose as a door – to keep the office concealed when it isn't being used – and pulls and ties easily out of the way while someone is sitting at the desk. The final look is a bit less polished, but will cost a fraction of the price of installing a new type of closet door.
When designing a cloffice, it's important to take the size and shape of the chair that will be used into account early on. Depending on the size of the closet or how often the office will be used, the office chair can either be stored in the closet itself or in the surrounding room. Either way, the desk should be installed at a comfortable height, and if the chair will be stored in the closet, space for it should be incorporated into the original design.
Cloffices don't just have to be for adults, either. They work great in a kid's room, too, as they provide plenty of surface space for a computer or homework without having to put a full sized desk in the room itself. Here, too, instead of closing the closet off or covering it up, it's worth painting the inside of the closet a different color and leaving it open to mimic the look of a "bumped in" alcove.
The biggest drawback of putting an office in a closet is that not every closet comes with built in lighting or electrical outlets. At worst, that means installing new hookups before finishing the inside of the closet, and at best running a power strip on a long cord into the closet from the room outside. Even so, this is a great way to get an extra workspace without sacrificing a spare room.
For more ideas about how to convert a closet into an office, or to see what a cloffice looks like in action, check out the full article here.
HomeThangs.com is not only a home improvement superstore, it also provides expert design tips and a comprehensive shopping guide, taking the ideas from professional interior designers, and offering tips to the consumers on how to pick the products to best suit their needs.