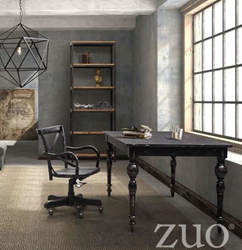 The ubiquity of wireless connectivity means that home offices can now be located just about anywhere in the home.
(PRWEB) December 19, 2013
HomeThangs.com – the Online Home Improvement Store has made their goal to deliver the right product to the consumer. With that in mind, shopping and home design tips, as well as special product selections are being introduced.
In the last few years, the face of the home office has begun to change. As wireless internet has become a standard feature in more and more homes, it has become easier, more convenient, and much more common for people in all walks of life to work from home at least on occasion. But the traditional large office, with a big desk, desktop computer, and filing cabinet is quickly becoming a thing of the past as the act of doing work becomes more mobile. HomeThangs.com has introduced a guide to the most important features of these smaller, more versatile office spaces.
1. Work Surface
One of the most important considerations for a home office of any size is the size of the work surface. This will vary from profession to profession. For example, someone who works exclusively on a laptop might need very little workspace at all – just enough room for the laptop and maybe a mouse or some reference materials. But an artist, designer, or someone works with a lot of paperwork and printed documents – like a lawyer – will want a larger desk with more room to spread out.
2. Storage Space
Having adequate storage is always crucial in a home office, but now this is more true than ever. If the "office" is a smaller workstation located in a central area of the home, it's especially important to be able to stow away work materials quickly, neatly, and efficiently. Rather than traditional filing cabinets, contemporary home offices tend to have built in, cabinet-style storage which allows the office to blend into the surrounding area and prevents office supplies, work papers, and reference materials from cluttering up the home.
3. Tidiness
Similarly, many homeowners are becoming interested in recessed work stations – that is, placing a desk, office chair, computer setup and storage in a niched area that can be completely enclosed, like a closet, when the desk isn't in use. Pocket doors, sliding doors, or folding doors work especially well for this sort of setup, because they can be moved entirely out of the way when the desk is in use, but make the whole work area blend seamlessly with the rest of the room when they're closed. Having this type of very compact setup makes it possible to have a fully functioning home office without dedicating a whole room to a single set of office furniture.
4. Location
The ubiquity of wireless connectivity means that home offices can now be located just about anywhere in the home. For instance, building a small computer workstation into the kitchen – either as part of a kitchen island or alongside one – is becoming increasingly common, offering a place to store cookbooks, making it more convenient to access recipes online, or just enjoy some downtime while cooking or doing laundry while staying close enough to keep an eye on cooking food.
5. Privacy
Of course, with greater mobility comes an increased problem of privacy, which can be an important thing to keep in mind, especially for anyone with a large family. A centralized workstation might be more convenient, but if it's in a public room of the home, be aware that noise and activity can be quite distracting. For those worried about being disturbed – or, in the case of those with jobs that require them to take calls at all hours, disturbing the rest of the family – it's definitely worth considering dedicating a full room to act as the office, and maybe even enhancing soundproofing on that room to help keep it quiet.
6. Consider Electronics
Laptops have become the go-to device for home offices, but they aren't the only electronics that go into a home office. All electronics should be connected to a high quality surge protector to prevent damage from power fluctuations. Built in task lighting can keep the work surface both well lit and clutter free. Finally, while a printer/scanner/copier/fax machine might not need to be wired directly to the computer, it's important to make sure there's a dedicated place for it that's conveniently accessible.
To see a few examples of a stylish, contemporary home office, check out the full article here.
HomeThangs.com is not only a home improvement superstore, it also provides expert design tips and a comprehensive shopping guide, taking the ideas from professional interior designers, and offering tips to the consumers on how to pick the products to best suit their needs.