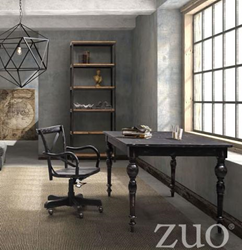 Industrial and farmhouse styles are booming right now, and a rustic office design is the perfect compliment to these popular looks.
(PRWEB) May 24, 2014
HomeThangs.com – the Online Home Improvement Store has made their goal to deliver the right product to the consumer. With that in mind, shopping and home design tips, as well as special product selections are being introduced.
As high speed wireless internet becomes ubiquitous and many jobs become increasingly digitized, it's more and more common for people to work from home, either occasionally or even full time. But a good home office shouldn't feel like a cubicle, it should be a more organic part of the overall home decor. HomeThangs.com has introduced a guide to using rustic office furniture to create a homier home office.
Most office furniture is designed with pure utility in mind, but this focus on efficiency often means that style tends to fall by the wayside. The result is generic, sterile looking desks and chairs that are fine for the office, but that don't look great in a home setting. One of the best ways to circumvent this problem is to look for office furniture that's a little rough around the edges, with a rustic, antique style wear-and-tear that gives it much more personality and style.
Industrial and farmhouse styles are booming right now, and a rustic office design is the perfect compliment to these looks. A desk made of reclaimed wood or covered in a coat of stylishly antiqued paint has a down-to-earth, homey quality that typical office furniture simply doesn't. Old fashioned knobby tooled legs, antique drawer pulls, and weather-worn paint in white or a cheery pastel all make for a desk that looks more like a cozy dining table or kitchen work table than a traditional stuffy office desk.
Opting for furniture that has a little style to it doesn't necessarily mean sacrificing functionality or ergonomics, either. Many cottage style desks come with hideaway keyboard trays disguised to look like regular drawers for desktop users, while more industrial drafting table style desks are ideally suited for laptop users, who really only need a flat surface at a comfortable height to work at.
As home offices move into more public areas of the home, it's becoming easier to find decorative or antique office chairs that are either made of wood or with a distressed painted finish. These are the perfect compliment to a rustic office decor, but it's important to look for chairs that will be comfortable to sit in for long periods of time. At the very least, the chairs should be adjustable in height and preferably have adjustable arms or backs as well.
Choosing rustic office furniture is a great first step towards building a home office that's relaxed, comfortable, and accessible. But doing so is even more important if it's located in a shared area of the home. Because the desk and chair are out in the open, appearance should be given equal weight to comfort, as people will spend at least as much time looking at the desk as they will using it. An elegantly designed office set will add personality as well as functionality to the room.
To find out more about designing an attractive, homey home office, check out the full article here.
HomeThangs.com is not only a home improvement superstore, it also provides expert design tips and a comprehensive shopping guide, taking the ideas from professional interior designers, and offering tips to the consumers on how to pick the products to best suit their needs.