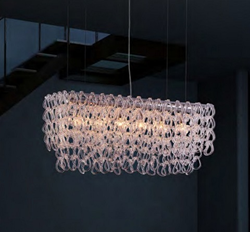 Choosing one big, distinctive, and unconventional lighting fixture can set the tone for an entire room, from grand and elegant to simple and feminine or even modern and cutting edge.
(PRWEB) January 05, 2015
HomeThangs.com – the Online Home Improvement Store has made their goal to deliver the right product to the consumer. With that in mind, shopping and home design tips, as well as special product selections are being introduced.
Lighting is rarely a top priority when designing a home office, but neglecting it entirely can leave a workspace feeling drab and boring. Statement chandeliers aren't exactly a conventional option for a home office, but the right one can add a lot of personality to the space, no matter what the style, and keep a home office from feeling too much like an office. HomeThangs.com has introduced a simple guide to choosing a statement chandelier, as well as why it's worth having one in a workspace.
Chandeliers are a natural pair for a traditional style office, but that doesn't mean they only work well with dark wood and oriental rugs. In fact, while a chandelier is pretty much obligatory in a Victorian library-style office, where they really stand out is in spaces where the choice is a little less expected. A petite crystal chandelier, for example, can add an elegant, feminine touch to a simple country cottage or farmhouse style, while a striking modern chandelier can bring a traditional office into the 21st century.
A very decorative chandelier can keep a simple modern office from feeling sterile and cubicle-like, while a simple, bold chandelier can help unify an eclectic office by making mismatched decor items feel more like intentional design choices. Hanging a permanent lighting fixture like a chandelier is also a good way to anchor an office setup that occupies only a small part of a larger room. Because chandeliers are large and relatively permanent, they'll give weight to a desk and chair that might feel adrift in a greatroom or family room.
For more inspiration about how to incorporate a decorative chandelier into a home office, check out the full article here.
HomeThangs.com is not only a home improvement superstore, it also provides expert design tips and a comprehensive shopping guide, taking the ideas from professional interior designers, and offering tips to the consumers on how to pick the products to best suit their needs.