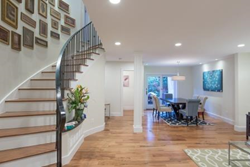 Not only did Synergy provide the value we were looking for, they really made us feel as if we were the only project they had.
Reston, VA (PRWEB) July 07, 2016
Synergy Design & Construction, a design-build remodeling firm located in Reston, VA, was honored to receive the Grand Award in the Entire House Under $250K category at the NARI Metro DC chapter's Contractor of the Year (CotY) awards ceremony in March of this year.
"Receiving this remodeling award was an honor for our entire design and production team. There's nothing like having our efforts and quality recognized by your peers," said Mina Fies, CEO of Synergy Design & Construction. "The best part was seeing our clients get a kick out of the recognition!"
The townhome, located in Reston, VA, was designed and remodeled by Synergy Design & Construction, with work including space planning, architectural plans, material selections, estimating, project management, all phases of construction, and more. The project included a kitchen remodel, new master bedroom suite which included a walk-in closet and contemporary master bathroom in addition to all new flooring, paint, doors and trim. This same project was also a featured home in the popular, annual Reston Home Tour last fall.
"Not only did Synergy provide the value we were looking for, they really made us feel as if we were the only remodeling project they had taken on," said the homeowner, Bob Meixner. "It was completed in the way we wanted it, and often times they went above and beyond what we expected. Their attention to detail is second to none."
The CotY awards ceremony was a sold-out event that hosted remodeling professionals from the Washington, DC metro area and took place at the Westin in Tysons Corner, Virginia. Held every year, the gala event honors members with Finalist, Merit, and Grand awards in 37 renovation and construction categories. The 3rd-largest NARI chapter in the US, NARI Metro DC has traditionally received the largest volume of CotY project entries of any chapter.
About Synergy Design and Construction
Synergy Design & Construction is a woman owned design/build home remodeling firm based in Reston, Virginia. Launched at the height of the 2008 recession, their against-all-odds success story has garnered both local and national recognition, several Master Design and Contractor of the Year awards and features on NPR and HGTV. Their commitment to developing innovative strategies for remodeling success includes the development of their proprietary project management system (The Renovation Roadmap™).
About NARI Metro DC
The Metro DC chapter of the National Association of the Remodeling Industry (NARI) is comprised of almost 300 remodeling companies. Membership in this organization ensures that member companies adhere to a strict code of ethics and professionalism. Membership is comprised of full-service contractors, design-build firms, manufacturers, suppliers, distributors, subcontractors, and other professionals who work in the remodeling industry.