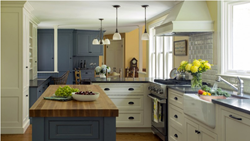 We want to create bath and kitchen cabinets that can be used for years to come without bringing harm to future generations. - Metropolitan Cabinets & Countertops spokesperson
(PRWEB) May 03, 2016
For the eighth year in a row, Metropolitan Cabinets & Countertops has upheld the distinction of being the only cabinetmaker in the state of Massachusetts certified by the Environmental Stewardship Program (ESP). This annual distinction is awarded by the Kitchen Cabinet Manufacturers Association, a non-profit trade association that represents both cabinet manufacturers and suppliers across North America.
ESP Certification
Launched in 2005, ESP certification is awarded to bath and kitchen cabinets manufacturers based on compliance in five key categories. This includes sustainable product and process resource management, as well as attentiveness to air quality, environmental stewardship, and community relations. Metropolitan Cabinets & Countertops works diligently to achieve commendations in each and every category. They feel strongly about creating beautiful kitchen cabinets that are designed using low formaldehyde-emitting wood products sourced through sustainable forestry practices.
The ESP seal is used on a variety of certified products, and the program itself has earned the approval of the American Standards Institute as an accredited certification organization. In conjunction with certification, the program also places a strong focus on education. Annual recertification is necessary to ensure that the producers of kitchen cabinets continue their efforts and do not bypass environmental stewardship practices as a way to cut corners on manufacturing costs.
"We are in the business of creating cabinetry for families," said a Metropolitan Cabinets & Countertops spokesperson. "Because of our family focus, a keen eye toward the environment is a natural extension. We want to create bath and kitchen cabinets that can be used for years to come without bringing harm to future generations."
The Metropolitan Cabinets Difference
The skilled workers at Metropolitan Cabinets & Countertops focus on the details. Built-in bath and kitchen cabinets are made with dovetail joints, white glued dowel joinery, and soft close drawers. This hands-on craftsmanship is combined with state-of-the-art technology to create the perfect gathering spaces and family storage solutions.
Metropolitan Cabinets & Countertops also stocks and installs countertops with a variety of style and materials to meet a wide range of needs. From marble and granite to engineered stone and Corian, the sales staff are product experts and can help homeowners, architects, and builders with the right layout, custom materials, and cabinets for each job.
For more information about the certifications held by Metropolitan Cabinets & Countertops, visit http://metcabinet.com/ or call (800) 698-8999. Their showrooms are located in Norwood, Watertown, Natick, and Wakefield. To see a showroom in person, visit 505 University Avenue, Norwood, MA 02062.
With more than 30 years of experience in the Northeast region, the team at Metropolitan Cabinets & Countertops has an eye on the big picture with sustainable practices and long-term effects for consumers. With a cabinet mill and stone fabrication shop for custom cabinetry and stone decor, Metropolitan Cabinets & Countertops is a local manufacturer that emphasizes environmental sustainability.