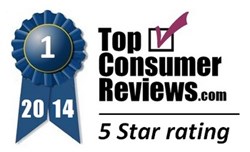 Nest Learning offers the most comprehensive and effective home school supplies for ages preschool to grade 12.
Overland Park, KS (PRWEB) January 31, 2014
TopConsumerReviews.com recently awarded their highest five-star rating to Nest Learning, a market leader in Home School Supplies.
Shopping online for home school supplies is necessary to find the right curriculum, resources and materials to properly educate a child. Local retail stores are not only expensive but very limited in what they have to offer. Parents will find an abundant selection of home education tools, including videos, worksheets, text books, tests, supplemental learning, and more, by shopping online for their home school supplies.
"Nest Learning offers the most comprehensive and effective home school supplies for ages preschool to grade 12," explained Brian Dolezal, of TopConsumerReviews.com. "Their well-organized website and huge selection creates a stress-free shopping experience. Shoppers will also appreciate the affordable pricing at Nest Learning – saving them hundreds of dollars over some of the other home school supply companies out there. Affordable prices, an abundant selection, and an easy-to-use website earns Nest Learning our highest rating."
To find out more about Nest Learning and other home school supplies, including reviews and comparison rankings, please visit the Home School Supplies category of TopConsumerReviews.com at http://www.topconsumerreviews.com/home-school-supplies/.
About Nest Learning
Over twenty years ago, Nest Learning began their journey with a passion to positively impact the lives of children, their families and caregivers as the creators and distributors of the world's finest collection of thirty-six animated stories from the New Testament and the Hebrew Bible (Old Testament), and twenty inspiring stories of American and world history's most outstanding heroes and heroines. In the following twenty-years, NestFamily, and their companion brands, Nest Learning and Nest Entertainment, have grown to become market leaders, providing inspirational, entertaining and educational resources for the expansive family market.
About TopConsumerReviews.com
TopConsumerReviews.com is a leading provider of independent reviews and rankings of hundreds of consumer products and services. From home school supplies to internet filters and learn to read programs, TopConsumerReviews.com delivers in-depth product evaluations in order to make your purchasing decision easier.