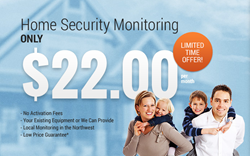 Remember, the safety of your home is worth a little extra effort.
Seattle, WA (PRWEB) January 23, 2014
Home Security Northwest, a company that specializes in installing home alarm systems, discusses the various bad habits many homeowners have when it comes to protecting their houses. Their newly released article opens by reminding homeowners of the very real dangers that burglary present in a state where burglary is increasing dramatically year after year.
"Remember, the safety of your home is worth a little extra effort," they state. The blog post gives a detailed list of the top 5 bad habits that homeowners across the United States struggle with the most. The article explains why their bad habits are endangering their homes, and gives suggestions for how to bring about resolution to those potential threats. They discuss habits as simple as forgetting to lock your doors and windows, to how much is safe to share about your life with neighbors, coworkers or on social media outlets.
"Try to have your family members keep each other accountable," they suggest, "Be creative. Be determined."
About Home Security NW:
Home Security NW is a local home security company dedicated to keep you and your family safe. Their state-of-the-art equipment and affordable options make it easy to find solutions that fit a variety of home security needs, and they have some of the most affordable security packages available. Be sure to visit http://homesecuritynw.com/ for more information about home security systems and to receive a free quote.
1208 10th St #101
Snohomish, WA ‎
(360) 339-8719