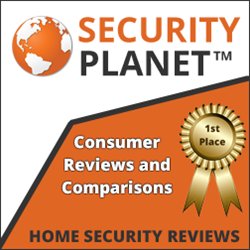 Get the latest information on home security online at SecurityPlanet.com.
Portland, ME (PRWEB) October 03, 2013
SecurityPlanet.com provides expert reviews and industry leading research on home security systems. The review site also ranks the top home security companies in the United States. SecurityPlanet.com's rankings, reviews and articles provide an easy to read resource for consumers who are looking to secure their homes and protect their families.
Find the top rated home security companies here at: http://www.securityplanet.com/best-home-security-systems/
Gavin Anders, editor at SecurityPlanet stated, "One of the biggest groups of home security system users is parents who want an added peace of mind with regards to their children. In homes across America both parents have full time jobs so their school aged kids may be home for certain periods of time without adult supervision, or a nanny. For this reason, SecurityPlanet.com has released tips that could help parents identify the features that the best home security systems should have."
The experts at SecurityPlanet.com recommend the following features when selecting a home security system:
24 hour monitoring: This is a must have for parents who want to know that the police will be called if there is an intruder in their home when the kids are home alone. Parents can't be there all the time, so it's important to have a reliable home security system that can dispatch the authorities quickly. Ensure that burglary, fire and medical are included in your monitoring plans.
Remote Time Alerts and Notifications: For parents concerned about what happens in the home when they're not there the next best thing could be a house that reports to you. Some home security company's offer monitoring plans that include text messages and email alerts from the house. These notifications can tell when your kids arrive from school, and if the alarm is triggered.
Smartphone Applications: Most phones are smart phones now, and more and more kids have smartphones like iPhones and Android based phones. The top rated home security companies are offering more users ways to interact with their home security systems. Kids could benefit from having a smartphone app that allows/encourages them to arm and disarm the system correctly. More importantly if they notice an alarm event has or is occurring in the home (because smartphone apps also send those alerts); kids can call their parents, as they don't want to walk in on a burglary on progress.
Home Automation: Parents can now lock and unlock doors remotely from work computers or smartphones, control thermostats and light switches. The benefit with this is kids can be forgetful so they may leave the house without locking doors behind them. Parents can now lock doors remotely.
Security Cameras: Integrating security cameras with your home security system could also add peace of mind for people who have nannies or contractors working in the house. It could also be a deterrent for burglars and sneaky teens alike.
About SecurityPlanet.com
Securityplanet.com is a trusted consumer resource for home security system reviews and consumer friendly insight. SecurityPlanet.com helps consumers find information on the top rated home security companies. People interested in home security systems would find helpful tips, blogs and articles on SecurityPlanet.com.