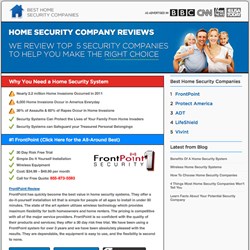 We here at Best Home Security Companies made it our goal to bring you all of the newest information about home security companies and what they offer with their services and also how they treat they customer satisfaction
Los Angeles, CA (PRWEB) February 04, 2014
Best-Home-Security-Companies.com, a website that offers in-depth and helpful reviews of many of the top home security companies, has just completed a thorough reevaluation of the top security companies in the country. Once again, the FrontPoint security company won, which means it will retain its position as the dominant home security option on the website.
Unfortunately, statistics that are posted on the home page of the website underscore the need for a home security system. According to Best-Home-Security-Companies.com, nearly 2.2 million home invasions took place in 2011, and a whopping 6,000 home invasions occur each day in the United States. These troubling figures have inspired many people to purchase a home security system. However, deciding which company is best to work with can be a confusing and even overwhelming experience, involving countless phone calls to different companies and hours spent researching online.
This is where Best-Home-Security-Companies.com can help; by offering in-depth reviews and information about many of the top home security system companies, consumers can rest assured that they are getting the best and most accurate information, all in one easy-to-use website. In addition, the site allows customers of the various companies to leave their reviews as well as rate the businesses with a star system.
"We here at Best Home Security Companies made it our goal to bring you all of the newest information about home security companies and what they offer with their services and also how they treat they customer satisfaction," an article on the website noted, adding that they have complied all of the best information on each of the leading home security companies and have created the site to share all of their collected information with people around the country.
As the review of the FrontPoint company noted, it has quickly become the best and most affordable option for home security systems. The company features a do-it-yourself installation kit that most people can install in less than 30 minutes. Because the company is so sure of the quality of its product, it offers a 30-day risk free trial to anyone who wants to try out their home security system. In addition to featuring a burglary, fire, environmental and life safety alarm, FrontPoint Security also offers a video camera integration that is viewable on a smartphone, home automation including a door lock and thermostat control, and a professional installation option.
About Best-Home-Security-Companies.com:
Best-Home-Security-Companies.com is a website that is devoted to reviewing security companies. The site also allows customers to review the companies and assign them a star ranking. For more information, please visit http://best-home-security-companies.com/