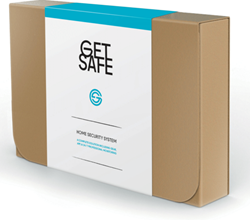 Concord, CA (PRWEB) January 18, 2016
GetSafe Home Security (https://GetSafe.com) today announced the launch of its GetSafe Starter Kit, a DIY home security system designed for renters and first-time homeowners. GetSafe offers a fresh take on home security that breaks many of the rules found in traditional security systems.
"We wanted to rethink home security and build a system for the way people live today," says Kevin Magna, General Manager of GetSafe.
What does that mean? For one thing, GetSafe is controlled by a smartphone, doing away with the awkward control panel hiding in a closet that served as the nerve center of most security systems.
"In a mobile-friendly world, you shouldn't have to run to a keypad and punch in a security code every time you enter or exit your home," says Magna.
GetSafe also offers customers greater freedom and flexibility with simple month-to-month service. Customers are free from the long-term contracts required by most other security companies. Many leading security companies require a minimum three-year contract.
"If you offer good service, you shouldn't need to lock the customer into a contract," says Alan Wu, Marketing Manager for GetSafe.
GetSafe is also a "Do It Yourself" (DIY) security system, which means that customers don't need to pay an installation fee. GetSafe's equipment is wireless and mounts with peel-and-stick tape. With no wires to run or nails to drive into walls, the system is attractive to renters who can't make modifications to their residence.
Since the system is portable, customers can also pack the system and take it with them when they move to a new home. The system is customizable, which means customers can add additional equipment if their new home requires extra sensors
"We want our customers to stay with us for life," says Wu. "So we designed a system that you can take with you when you move, and change as your home changes."
The GetSafe Starter Kit retails for $249 and includes two door/window sensors, plus a motion detector. The package also includes professional security monitoring for just $29 per month.
Customers can add additional sensors to their system when they purchase the Starter Kit, or add more equipment at a later date.
Magna says the company will soon be adding an optional video camera, plus water and smoke/CO2 detectors. The GetSafe system is also compatible with Nest Thermostats.
To learn more about GetSafe Home Security, visit https://getsafe.com/how-it-works/.
About GetSafe Home Security
Founded by industry veterans with over 30 years of combined experience, GetSafe offers a fresh take on home security. The company offers no-contract, DIY alarm systems that fit today's lifestyles. Designed for a mobile-friendly world, the system is controlled through a smartphone. GetSafe is simple to install, and easy to customize, which means customers can take it with them when they move, and add to the system as their home grows.
Learn more by visiting GetSafe.com or by calling (888) 799-6255.