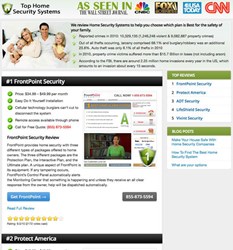 FrontPoint's plans are all 100 percent cellular and this means that they will never be dependent on a landline.
Los Angeles, CA (PRWEB) September 05, 2013
Top Home Security Systems, a website that offers in-depth reviews of some of the top home security systems, has just announced that they have once again ranked FrontPoint as the number one security provider in the country. This news comes on the heels of Top Home Security Systems completing its analysis of the best home security systems that are currently on the market. FrontPoint, which has held its number one rank for the first half of 2013, now continues to hold steady as the best security provider.
While many people would like to get a security system for their home, it can be time consuming and confusing to determine which company offers the best system and price. Comparing different home security systems has typically meant spending hours on the phone calling various companies and visiting numerous websites. Thanks to Top Home Security Systems, consumers can compare and contrast five of the top home security systems, all in one convenient and user-friendly website. Each of the systems includes a detailed review, customer ratings, pricing information and contact details for the company.
According to the review of FrontPoint, the company provides home security with three different types of packages priced from $34.99 to $49.99 a month: the Protection Plan, the Interactive Plan, and the Ultimate plan. One thing that helps to set FrontPoint apart from its competitors is its equipment; if any tampering is detected, FrontPoint's Control Panel will automatically alert the Monitoring Center that something has happened, and unless the owner lets them know that everything is okay, help will automatically be dispatched.
"FrontPoint's plans are all 100 percent cellular and this means that they will never be dependent on a landline," the review noted, adding that the company provides security against home intrusions, monitor against fires, environmental changes, life safety, and monitor the premises 24 hours a day, seven days a week.
"The 100 percent cellular feature is almost 100 percent burglar proof. Because fires can start when no one is home, a quick response from the fire department is crucial in saving lives and property and the Cellular capability has the advantage over a land line in this scenario."
Anybody who would like to learn more about FrontPoint and other top home security systems is welcome to visit the Top Home Security Systems website at any time; there, they can read the reviews and ratings of the various companies.
About Top Home Security Systems:
Top Home Security Systems is a review website that allows customers to rate and review the security companies to help their customers better choose what security system best suits their needs. For more information, please visit http://www.top-home-security-systems.net/.