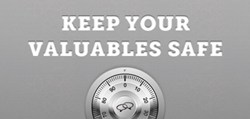 It is important for all homeowners to keep an up to date inventory of their valuables stored in their homes in the event of a home break in, so they can easily identify what is missing.
(PRWEB) August 07, 2013
Despite the benefits of having a home inventory of one's valuable possessions, it's something that many homeowners neglect to do. A home inventory can allow a homeowner to purchase an adequate amount of insurance coverage, settle insurance claims faster and have information on losses for tax purposes. Even the most advanced security system equipment can't protect against loss that occurs as a result of natural disaster or fire, which is why everyone should have an inventory, even homeowners with high-tech security systems.
The professionals at SecuritySystemReviews.com, a security system comparison and home security system rankings site, created a list of tips to help homeowners get started on a home inventory.
1. Start a home inventory as soon as possible. If just moving into a new home, it's easier to include items such as receipts from house warming gifts or wedding presents. The sooner the better with a home inventory, because disaster can strike at any time and it's much easier to complete an inventory before a disaster, as opposed to after.
2. Make a detailed written list of all valuable items. Include as many details as possible, such as make, model, the store the item was purchased at, any appraisals that may exist for the item, etc. Include clothing, by categories, in an inventory, with a particular focus on valuable clothing items. Electronic items often have a serial number listed, so record that on a written list as well.
3. Know the value of very expensive items, such as art or antiques. Often the value can go up on these items, so have them appraised frequently. Keep the appraisal information, and also ensure that there is enough insurance to cover these items if their value has increased over the years.
4. Take pictures of all items, and record the details of what the item is on the back of the photo. In addition, taking video is an extra precaution that can be included in a home inventory.
5. Store the items collected during the home inventory in a safe place. Many people choose to have multiple ways of storing items, for example, on a computer's hard drive, in a safety deposit box and on a CD that is stored at an offsite location. By having multiple storage options for the recordings of the home inventory, the home owner reduces the risk of the inventory being destroyed during the same event that destroys the items in the home.
About SecuritySystemReviews.com
SecuritySystemReviews.com is a site that provides information about top alarm system companies throughout the country, such as Lifeshield Security. The site provides reviews, rankings and valuable pricing information, including coupons and discount codes.