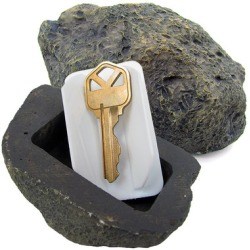 Leaving spare keys outside of houses is a popular trend for homeowners. By following these simple tips from the experts at AlarmSystemReport.com homeowners can be sure they are doing so in the safest way.
Seattle, Washington (PRWEB) August 13, 2013
It's very common for homeowners and renters to hide spare keys for a number of reasons; including in case of a lost key, for children or for service people such as cleaning services. Despite the convenience of hiding a spare key, many people don't hide them well enough, and leave their home open to threats from intruders and burglars. Even with the best monitored home alarm system, it can be risky for a criminal to locate a spare key.
AlarmSystemReport.com, a provider of home alarm system reviews, has created a list of tips for residents to more effectively hide spare keys and reduce the risk of them being discovered by the wrong person. AlarmSystemReport.com is a provider of information about top home alarm systems, including FrontPoint security reviews.
1. Never a hide a spare key in obvious locations. These include under door mats, around light fixtures located around the front door or under fake rocks. These are all the first locations a burglar is going to look. It's also advisable to avoid hiding the key around the front door at all. Other areas burglars frequently look include in lawn ornaments.
2. Giving a spare key to a trusted neighbor is one of the best ways to ensure it's not going to fall into the hands of a burglar—but there is the risk that the neighbor won't be home when a spare key is needed, so this may not be the most convenient way to secure a spare key.
3. A key vault is a good option for someone who has to have a spare key on their own property. A key vault is like a small version of a safe, and it can be hidden on the side of a home or another discreet location, in order to store a spare key.
4. If a key is hidden on the property of a home, it's best to place it somewhere in the back yard that isn't easily seen, as opposed to around the front door. It can be wise to hide a spare key in a dog house, if one is present, because most criminals aren't going to risk disrupting a dog, when they don't know whether or not the dog could be dangerous.
5. It's also a good idea to frequently change the location of a spare key. Many robbers case homes before attempting a robbery, so if a key is located in the same spot for a long period of time, a burglar could know this, simply by having watched the home and the actions of its residents.
About AlarmSystemReport.com
AlarmSystemReport.com is the leading online provider of information about the home alarm industry and answers to common alarm system questions. The site provides comprehensive reviews and rankings of the top home alarm system companies in the country.