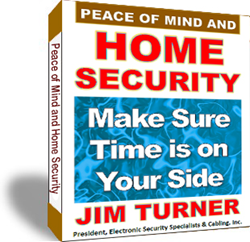 Electronic Security Specialists & Cabling (ESSC) has released all eleven chapters of their highly anticipated new e-Book titled Peace of Mind and Home Security: Make Sure Time is on Your Side
(PRWEB) December 02, 2015
Memphis, TN: Electronic Security Specialists & Cabling (ESSC) has now released all eleven chapters of their highly anticipated new e-Book titled Peace of Mind and Home Security: Make Sure Time is on Your Side. After reading this book, one can assess their own home security needs. The first four chapters cover perceived risk, effective diversions, and types of home security systems. When considering the best options for securing a home, the perceived risk that the intruder will be caught or harmed is crucial. Knowing that the majority of burglaries occur while no one is home, making visible signs from the outside is important. Things like home security stickers and/or a dog are things that deter burglaries. Another thing to take into careful consideration is that security systems can help to protect people from not just burglaries, but also fires, which are a common source of personal property damage and loss.
Chapters five and six cover securing doors and windows. Chapter seven shares the best places to store or hide valuables including types of home safes. Chapter nine reveals common mistakes and chapter eleven reviews the previous 10 chapters.
The author of Peace of Mind and Home Security: Make Sure Time is on Your Side is Jim Turner, President of ESSC Inc. Turner has over three decades of experience designing and managing Professional Security Systems. Prior to founding ESSC Jim managed Electronic Security for Memphis-based Malone and Hyde, Inc, AutoZone and Super D Drugs.
Turner has provided business security services to small and medium businesses, Fortune 500 Corporations, as well as Residential Security to the celebrity homes of Jimmy Connors, John and Bo Derek, Yvonne De Carlo, Douglas Cramer (Producer of Love Boat and Dynasty), Bill Bone (Owner of the ranch Michael Jackson turned into Neverland), former Undersecretary of the Interior Thomas J. Barrack, and the famous horse whisperer Monty Roberts among others.
In 1987 Turner started Electronic Security Specialists, a licensed low-voltage contractor in Tennessee and Mississippi. The company is also licensed in Tennessee and Arkansas to install and service electronic security equipment, alarm monitoring, CCTV systems, UL Certificate fire systems, and access control systems.
Now with roughly 20 employees, Electronic Security Specialists installs alarms, access controls and fire alarms, and performs video integration. Clients range from residential to commercial sites, including large medical campuses, office buildings, warehouses, lodging establishments, educational facilities, and retail stores.
A partial list of its growing client base includes Allenberg Cotton; BancorpSouth Bank; Coca Cola Refreshment USA; CVS Pharmacy; First South Credit Union; First Security Bank Batesville, Miss.; Methodist Healthcare University; Methodist Hospital North, South, and Germantown; Memphis Convention and Visitors Bureau; and the University of Mississippi.
For more information about ESSC, visit them online at electronicsecurityspecialists.com or call (901) 366-4505.
For complimentary access to the full release of Peace of Mind and Home Security: Make Sure Time is on Your Side, visit http://securitysystemsforbusiness.com/ebook/.