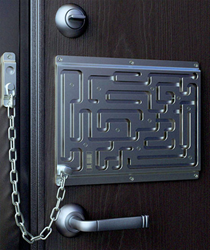 Following these simple security tips from the experts at SecuritySystemReviews.com will help further ensure your safety at home.
Phoenix, Arizona (PRWEB) August 14, 2013
Many homeowners have images of burglars who scale to second story windows in order to gain entry to a home, but in actuality, most thieves actually use the same entry as homeowners—the door. It's important to not only always keep the doors of a home locked, but also to ensure that doors are as secure as possible. Secure doors and locks are the best way to go about preventing a home intrusion, aside from having security system equipment present.
SecuritySystemReviews.com, a leading provider of tips on home security, created a list of tips for homeowners to keep in mind in order to have the peace of mind that comes with knowing a home is secure from intruders.
1. Choose exterior doors that aren't hollow. Exterior doors should be constructed in a solid way, of durable wood or metal. Exterior doors should also open outwardly, as opposed to inwardly, because this makes it more difficult for an intruder to kick them in.
2. It's best to avoid having doors that are located near a window, because this gives thieves the opportunity to easily break the window and unlock a door from the inside. If a door is located near a window, a homeowner or renter should consider covering that window with a heavy-duty security film to make it more difficult to break.
3. All exterior doors should have deadbolts, in addition to standard doorknob locks.
4. Consider installing dead-locks. A dead-lock is one that can't be unlocked from the outside—it's only possible to lock or unlock it from within the house.
5. Carefully consider sliding doors in a home, because these are potentially one of the biggest security vulnerabilities for many people. It may be wise to install keyed locks on sliding doors, as well as locks that are placed at the top and bottom of the door, for added security.
6. Ensure that strike plates are durable and in good condition. Strike plates are the metal plates that are on a lock, into which the lock slides. If a strike plate is worn out, not durable, or not screwed into the door jamb securely, an intruder can remove it to gain entry to a home.
7. Consider placing cylinder guards on exterior doors. Cylinder guards are placed on the area where a key is inserted into a lock, and they can prevent the lock from being removed.
About SecuritySystemReviews.com
SecuritySystemReviews.com is the leading independent, third-party provider of information regarding the home security industry, including in-depth reviews of top companies, such as ADT reviews and Vivint reviews. The site also provides visitors with valuable pricing information, coupons and discount codes that can be used toward the installation of a home security system.