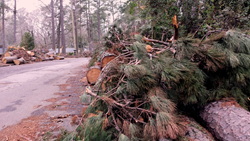 Evans, GA (PRWEB) March 24, 2014
In the aftermath of "Winter Storm Pax," CSRA Home Connections is seeing more work than they've ever experienced. February, normally a slow month for the business, had Preferred Providers extremely busy, trying to return everything to normal, which they are still working to do.
It has been over six weeks now, but February 12, 2014 is a date that will live in infamy in the minds of thousands of Augusta, Georgia residents and business owners. That's the day that "Winter Storm PAX" roared into town with about two inches of relentless sleet, snow and freezing rain that crippled the second-oldest city in Georgia.
The old saying, "One man's feast is another man's famine," is ringing true for many of CSRA Home Connections' Preferred Providers as they deal with the stress, cost and aggravation of local residents trying to return to normal. They are experiencing a larger workload than ever before, especially at this time of year.
Century 21 Larry Miller Realty's Property Management Division quadrupled its repair business in the months of February and March. They have used almost all of the CSRA Home Connections Preferred Providers to take care of the repairs of the 400+ rental properties that Century 21 Larry Miller Realty manages.
"Like us, they were all very busy, but they all were able and willing to come out and do the estimates we requested and fix the damages and do the repairs at very reasonable prices and in a timely manner. Even though they were all working 24/7 for those few weeks, and even now, they never lost any of the quality and professionalism that they portray in their business year-round," said Bobbie Kulhke and Jennifer Wright, representatives of Century 21 Larry Miller Realty's Property Management Division.
The Preferred Providers used most were All South Siding; Roofing and Windows; Clean N Brite; Mitts Landscaping; Big Dog Stump & Tree; Tom Cely, Inc.; The Drain Surgeon and Green Harvest Lawn Care. Most of the issues that arose because of the ice storm were roof damages, lawn clean-up and repairs, general maintenance and even some HVAC services, due to the cold weather.
"Even a month after the storm, we are still getting lots of calls for repairs, and some of our Preferred Providers are five to six weeks out for an estimate because they are trying to catch up," said Kulhke and Wright. "They worked around the clock for us, and we are all very appreciative."
About CSRA HOME CONNECTIONS®
"We took the basic premise of CENTURY 21's Local Alliance Program and enhanced it exponentially with an aggressive multimedia marketing campaign," explains Larry Miller, who has been operating his successful CENTURY 21 franchise for over twenty-eight years. "Our program makes it possible for local businesses to economically and effectively market their products and services to thousands of homeowners, home-buyers, home-sellers and home-builders throughout the CSRA."
In addition to "CSRA HOME SHOWCASE", the unique marketing program features:

A substantial monthly radio campaign on a network of local radio stations;
TV commercials on local broadcast stations (such as FOX 54, NBC 26, and WJBF-TV) and on both Comcast and WOW cable networks
Internet marketing presence on http://www.CSRAHomeConnections.com and at http://www.CSRAHomeShowcase.com
Social media presence on Facebook, YouTube, etc.
Monthly ads in Homes and Land and The Real Estate Book
Participation in direct mail campaigns and other co-op marketing initiatives
"We're offering tons of networking opportunities for our program participants, with monthly breakfast meetings, quarterly success seminars and other group events," reports Director of Communications Dawn Human. "Furthermore, all of our agents are promoting our Preferred Providers to their clients, and our sponsors will cross-promote their products and services throughout the year." Director of Membership Development Caroline Thomae Bradshaw adds: "Plus, in an effort to make sure we're promoting the very best businesses available, all potential sponsors must apply for membership in the program, pass our Executive Committee's review process, and agree to regular monitoring and customer service standards." Interested companies, professional practices or individuals may contact Mrs. Bradshaw by phone at (706) 860-0000, or via e-mail: CBradshaw(at)C21LarryMiller(dot)com.
About CENTURY 21 Larry Miller Realty (http://www.C21LarryMiller.com):
CENTURY 21 Larry Miller Realty, founded in 1985, is the Augusta metropolitan area's largest CENTURY 21 Real Estate Corporation franchisee. The firm, which offers full-service real estate capabilities, operates two local offices: in Evans, Georgia; and in Thomson, Georgia. Licensed in both Georgia and South Carolina, CENTURY 21 Larry Miller Realty's service area includes Richmond County, Columbia County, Burke County, McDuffie County, Warren County, Lincoln County and Jenkins County in Georgia, plus Aiken County and Edgefield County in South Carolina. For more information, call Frank Stacey at 706-860-0765.
About CENTURY 21 Real Estate LLC:
CENTURY 21 Real Estate LLC (http://century21.com) is the franchise residential real estate sales organization, providing comprehensive training, or of the world's largest management, administrative and marketing support for the CENTURY 21® System. The System is comprised of approximately 7,000 independently owned and operated franchised broker offices and 100,000 agents in 73 countries and territories worldwide.
©2013 CENTURY 21 Real Estate LLC, A Realogy Company. CENTURY 21® Is A Registered Trademark Owned By CENTURY 21 Real Estate LLC. An Equal Opportunity Company. Equal Housing Opportunity. Each CENTURY 21 Office is Independently Owned and Operated.