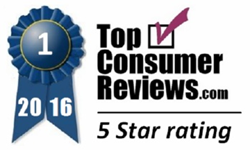 Since 1996, LendingTree has been helping homebuyers get the best mortgage terms for their home loans.
Overland Park, KS (PRWEB) August 08, 2016
TopConsumerReviews.com recently gave their highest rating to LendingTree, an industry leader among providers of Home Loans.
Buying a home is more affordable now than ever with today's low home loan rates. In the past, getting a mortgage involved going to a variety of local banks and other institutions, completing lengthy paperwork, and hoping for a favorable response days - or even weeks - later. Today, however, many smart homebuyers are going online to find the best possible rates for their home loans, sometimes getting preapproved in a matter of minutes. Online home lenders often give customers a variety of offers from which to choose, making it even more likely that they will find a home loan that will be affordable and meet their mortgage needs.
"Since 1996, LendingTree has been helping homebuyers get the best mortgage terms for their home loans," explained Brian Dolezal, of TopConsumerReviews.com, LLC. "As evidenced by their perfect A+ rating with the Better Business Bureau, LendingTree is reputable, trustworthy, and focuses on making the home loan process as hassle-free as possible. Because LendingTree has relationships with more than 150 banks and other lenders, they can quickly give customers the best rates available for their mortgage, without having to spend time looking around on other sites. With an easy-to-use website packed with useful tools and tips, a simple application process, and excellent customer satisfaction rates, LendingTree is the most obvious choice for our highest rating in the Home Loans category."
To find out more about LendingTree and other online providers of Home Loans, including reviews and comparison ratings, please visit the Home Loans category of TopConsumerReviews.com at http://www.topconsumerreviews.com/home-loans/.
About LendingTree
LendingTree is the nation's leading online loan marketplace, empowering consumers as they comparison-shop across a full suite of loan and credit-based offerings. LendingTree provides an online marketplace which connects consumers with multiple lenders that compete for their business, as well as an array of online tools and information to help consumers find the best loan. Since inception, LendingTree has facilitated more than 55 million loan requests. LendingTree provides free monthly credit scores through My LendingTree and access to its network of over 350 lenders offering home loans, personal loans, credit cards, student loans, business loans, home equity loans/lines of credit, auto loans and more.
About TopConsumerReviews.com
TopConsumerReviews.com, LLC is a leading provider of independent reviews and rankings of hundreds of consumer products and services. From Home Loans to Debt Relief and Mortgage Refinancing, TopConsumerReviews.com delivers in-depth product evaluations in order to make purchasing decisions easier.