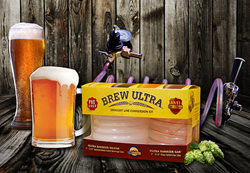 Nobody wants their beer to taste like a shower curtain a shower curtain.
Dnever, Colorado (PRWEB) June 07, 2014
EJ Beverage, a division of the Eldon James Corporation, is launching a new draught line conversion kit with PVC FREE and antimicrobial tubing for the home dispensing market. The kit now gives home brewing enthusiasts the same technology to protect the flavor of their beer as has been used and tested by major craft breweries, beer gardens and restaurants around the world.
The Brew UltraTM Draught Line Conversion Kit is specially designed for home dispensing systems where individuals are serious about the quality of the beer that they serve. The kit includes a PVC FREE and antimicrobial coiled tubing for a beer dispensing line and a coiled length of PVC FREE clear tubing with a red stripe for the gas line. The beer line was developed and tested to help prevent the buildup of biofilm within the tubing walls. The gas line was co-developed with the New Belgium Brewery to address concerns of unseen mold buildup and hidden valve failures that could cause product or cleaner to back up in the gas line.
While the conversion kits are new to the market, the Eldon James Corporation has been developing products for the medical, automotive, industrial, food and beverage markets for 27 years. With significant innovations for the medical/biomedical/pharmaceutical industry, they determined that their existing products could also be developed for the food and beverage markets. As a leading plastics manufacturer located in Colorado, a hotbed for micro-breweries, brewing and dispensing applications became a logical starting point for a new venture.
"We originally developed PVC FREE and antimicrobial tubing for the medical market through our medical division of Eldon James approximately 10 years ago," stated Greg Kinney, director of food and beverage for EJ Beverage. "Because the medical market has been aggressive in eliminating PVC from medical device applications, we knew that the food and beverage market would soon follow with similar intentions. We started consulting with several experts in the beer and brewing industry and found that they have long been searching for an alternative for their dispensing systems."
After many years of successfully helping the medical industry eliminate PVC from patient care and other applications, Eldon James began testing their tubing for food and beverage applications. "We began testing for beverage applications over two years ago and were amazed at the results," explained Mark Timbrook director of marketing for Eldon James. The Research Center Weihenstephan for Brewing and Food Quality tested the tubing against the top four beer spoiling bacteria and documented that it is up to 100% effective against all bacteria tested.
"The combination of bacteria buildup and the 'plastic taste' that you may get in traditional dispensing systems have contributed to flavor and contamination issues that brewers have been keenly aware of," continued Timbrook. "The testing not only proved that our tubing was effective against the buildup of bacteria, but Weihenstephan also concluded that there was no noticeable change in the taste of the product passing through the tubing. This addressed our ultimate goal of 'serving beer the way the brewer intended', and therefore EJ Beverage was born."
After receiving these positive results from laboratory testing, EJ Beverage then pursued some practical testing through the New Belgium Brewery in Fort Collins Colorado, the Airbrau Beer Garden in Munich Germany, and several other "real world" applications. Kinney added, "In our laboratory and field testing we found that the tubing helped protect the flavor of beer. By eliminating the PVC and all of the plasticizers that go with traditional beverage tubing and then adding an antimicrobial liner, we found an excellent combination that is gaining a lot of excitement in the industry."
Paul Olson, a long time brewer, draught specialist and most recently the owner of the Keg Whisperer, LLC in Colorado, is now recommending this PVC free tubing to all of his clients. "I have installed my last PVC line," stated Olson. "Nobody wants their beer to taste like a shower curtain." Olson has installed and maintained many high profile systems including a 3 tap system in the Governor's mansion in Colorado.
EJ Beverage now has a full line of PVC FREE and antimicrobial tubing products for the food and beverage market. Because of the significant growth in the homebrewing market, it is their home dispensing kits that are getting a lot of the attention right now.
"Once the Brew UltraTM kits were finalized and ready for market, EJ Beverage offered a limited time opportunity for the public to order direct from the manufacturer," stated Timbrook." The response was even greater than expected. For a period of time, we allowed homebrewers to sign up online as part of a pre-launch promotion for the kits. We limited the orders to a maximum of four kits per order over a period of four days. While the number of orders that came in impressed us, what really surprised us is how many orders came in with two, three and four kits per order."
Timbrook reported that the feedback they receive about the kits is always great and that they usually mention at least one of three things:
1. The elimination of the plastic taste that they had in their system
2. The complete reduction of bacteria in their lines between cleanings
3. The coiled tubing helps keep the tubing off of the floor and more organized
Olin Schultz, CEO of MoreFlavor! Inc., was very intentional about being the first to carry the EJ Beverage line of tubing and kits. He said, "The Ultra Barrier Silver from EJ Beverage is the new gold-standard for draft beer tubing... odor free, flavor free, PVC free with a silver antimicrobial liner. I also love how the unique coiling will keep your kegerator clean and organized." The Brew UltraTM Draught Line Conversion Kits are now available at http://www.morebeer.com/category/draft-gas-beverage-tubing.html.
MoreFlavor! Inc. is now carrying a full line of tubing for EJ Beverage through their online retail site, http://www.morebeer.com and through their wholesale division, http://www.Fermentap.com. "We are thrilled to have MoreFlavor! on board," said Timbrook. "Not only do they reach a great audience directly through MoreBeer!, but Fermentap also gives us a great outlet as a wholesale supplier for the more than 800 home brew supply stores throughout the United States.
Kinney concluded, "Whether it is a large craft brewery or a brand new home brewer, the sentiment is the same. There is an innate desire to serve beer the way the brewer intended. EJ Beverage now offers a new solution to help meet that noble goal."
EJ Beverage will be exhibiting at the 2014 National Homebrewers Convention in Grand Rapids, MI at booth 239, June 11-14. For more information about the new line of beverage products from EJ Beverage, visit them online at http://www.EJBeverage.com.