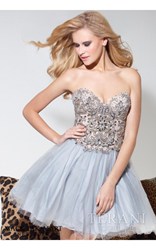 In MackTak Mart Homecoming Collection girls will find dresses from many different New York designers.
New York, NY (PRWEB) August 01, 2013
Even though sometimes Homecoming is labeled to be a "Fall Prom", everyone knows that this occasion has many differences from Prom, and for girls it all starts with a dress. For Prom, young ladies try to look as classy and posh as they can, more formal in some ways, where Homecoming dresses are supposed to be more fun, playful and edgy. As everyone knows Homecoming is held annually right after the beginning of the new school year. Girls usually start preparing for this event and shopping for Homecoming Dresses during their summer vacation. Designers all over the world who specialize in this collection try to create their best look yet for their Homecoming Collections; they work hard to offer more eye-catching, fun and sexy looks.
MackTakMart.com presents Homecoming Collections from the top designers only; these are the ones who've already marked their names in society and are trusted by their customers by having the best quality fabrics and using the best quality stones and crystals and by creating the looks with high-quality tailoring.
In MackTak Mart Homecoming Collection, girls will find the dresses of many different styles. Any girl will be able to find something she will love no matter what her taste is, no matter what size or shape she has; it is guaranteed that there is a dress for her.
As it is commonly accepted, Homecoming Dresses are mostly short. However, it does not give any restrictions to the designers to play around with their imagination and create different looks. It can be a classic look like Terani H1956 Dress with just the right amount of stones and crystals on the shoulder stripes, creating the entire look chic and glamorous, or the soft look like Blush C124 Dress which is featured in shiny Blush color which gives the dress that dreamy look that the girl would want to achieve when wearing this piece. For the girls who like to wear something more fun and playful, MackTakMart.com would recommend a style like Jovani 79163 Dress with dazzling crystals. These dresses can be found at MackTakMart.com along with many other dresses that offer hi-low skirts, bandage styles or the cutout dresses. The best thing is that these dresses come in so many different fun and bright colors like Coral, Mint, Royal Blue, Fuchsia Pink, Blush, Baby Blue and many others.
Feel free to browse on the MackTak Mart website and let them give you the best service you've ever experienced in online shopping. MackTak Mart is ready to assist buyers in creating their best look ever for this amazing event which marks the start of their school year.
For more information please visit: http://www.MackTakMart.com.
About MackTak Mart New York:
MackTak was created by Mack Tehrani and the support of a close friend Ali Dowlaty. They were both in a music band that was started in college, but later on the band brought the creation of a new brand called MackTak Collection. The brand specialized in unique and modern designed T-shirts, which are still available online at MackTak Mart. Today the brand carries more than fifty designer dresses for all types of events and occasions. MackTak Mart is a growing and very successful dress retailer that specializes in prom, evening, and cocktail dresses.
Media Contact: 212-302-2468 | marketing(at)macktakmart(dot)com