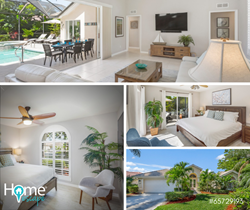 Users love our site and travelers are actively looking for an alternative to the expensive travel sites – HomeEscape is both an economical choice and an increasingly popular one.
Miami, FL (PRWEB) July 21, 2017
With a subscription cost of only $199 annually per vacation rental listing when registered during the promotional period, HomeEscape offers owners an unprecedented price for listing their property.
For only $199, vacation rental owners can get more traffic, more bookings, and more money – equaling massive savings over competitors that charge thousands annually and restrict communication between owners and travelers. HomeEscape is a game changing organization that seeks to empower users to run their vacation home rentals with as much control as possible.
HomeEscape focuses on delivering the best experience possible for its owners, offering unrivaled customer support, waived cancellation fees unless a property is double-booked, zero-commission fees, and an easy-to-use interface that makes reservations easier. Owners benefit by maximizing profits for their business and minimizing the headache.
HomeEscape seeks to finance major marketing campaigns through the new subscription fee. All advertising regions on the site will enjoy enhanced visibility and traffic as HomeEscape plans to invest heavily in advertising across all markets.
Owners can expect marketing activity throughout social media, On-page and off-page search engine optimization ("SEO"), media coverage through press releases, television, and radio advertisements, and paid advertising on the search engines.
"We are excited about this next phase in our development," remarked Avi Vaknin, CEO, and president of HomeEscape. "Users love our site and travelers are actively looking for an alternative to the expensive travel sites – HomeEscape is both an economical choice and an increasingly popular one."
HomeEscape's owners and travelers enjoy a suite of benefits when using HomeEscape, such as no processing fees, no booking fees, and no service fees, making it the most affordable vacation rental website in the world. Additionally, owners benefit from direct communication with guests, with no limit on how much they can talk.
"My goal with HomeEscape is to turn the vacation rental industry on its head – instead of giant corporations sucking money from everyone and providing little to no value to customers – I wanted to create a community platform that looks out for everyone's best interest, so that both owners and travelers come out on top," said Vaknin.
Although the marketing campaign will be extensive, Vaknin recommends that owners take steps to adequately optimize their existing listing profiles, such as: setting nightly, weekly, and monthly rates for their properties, highlighting any testimonials or reviews that provide an accurate depiction of their properties, and fully completing their property profiles.
"Completed profiles establish validity and trust with travelers," stated Vaknin. "As HomeEscape surges in popularity, it is important for vacation homeowners and managers to complete their listing profiles to take advantage of the increased website traffic."
HomeEscape's growth target is to be the largest vacation rental listing site on the internet, an achievement that will help owners retain both control of their businesses as well as the majority of the profits from their bookings. Marketing campaigns are essential for this goal, otherwise, HomeEscape will only be able to invest in cities that have the most inventory of vacation rental homes available.
HomeEscape is offering promotional prices to the first cohort of owners who enthusiastically served as brand ambassadors to HomeEscape.
"Our promotional prices are a huge thank you to the owners who helped make HomeEscape the success we are today. We know that we would not be growing as quickly as we are were it not for the thousands of enthusiastic owners and property managers that have uploaded their properties and shared HomeEscape widely on social media," said Vaknin.
About HomeEscape: HomeEscape connects homeowners and property managers with travelers who seek the space, value, and amenities of vacation rental homes as an alternative to hotels. With detailed property descriptions, photos and list of amenities and nearby attractions, HomeEscape makes it easy to find and compare properties all over the world. Travelers can use HomeEscape to find the best Panama City Beach vacation rentals, Kissimmee vacation home rentals, Gulf Shores condo rentals, affordable vacation rentals in Maui, and other destinations worldwide.