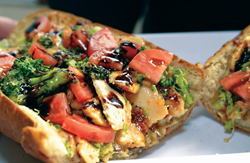 The Homegrown Picks Promotion is all about honoring the creativity and showcasing the talents of our team members, states Annica Kreider, VP of Brand Development.
Atlanta, GA (PRWEB) February 25, 2014
Mellow Mushroom has crowd-sourced its own employees for new food and beverage concepts that are now debuting via a limited-run menu. Items such as the Turkey Club pizza pie, the Chicken Cordon Bleu Calzone and the Thaidal Wave Sweet Thai Chili Chicken Hoagie will be available to order this month.
Mellow Mushroom polled servers, bartenders, prep and line cooks from over 160 locations to curate the new Homegrown Picks menu, which will be available nationwide through March 31st.
Mellow Mushroom launched the Homegrown Challenge, calling for the best pizza, salad, calzone, hoagie and cocktail recipes from their employees. Over 85 recipes were submitted and judged on taste, presentation and originality. After whittling down the submissions to the seven finalists that now comprise the Homegrown Picks menu, a panel of professional judges determined an overall food and cocktail winner.
The panel consisted of Eater editor Sonia Chopra, Chef Rory Moon, New York Times dining writer Kim Severson, mixologist Todd Richman and Home-Grown Industries CEO Richard Brash.
New menu items include:

Thaidal Wave Hoagie – Sweet thai chili chicken, grilled onions and mushrooms, provolone cheese, fresh broccoli and tomatoes, mayonnaise and finished with a balsamic glaze drizzle. Awarded Best Overall Food.
Blueberry Vodka Mojito – Fresh blueberries, mint and lime muddled with simple syrup then shaken with American Harvest organic vodka and guava nectar and finished with a splash of soda. Awarded Best Overall Cocktail
Chicken Cordon Bleu Calzone – All-natural chicken, maple-glazed ham, swiss and mozzarella cheeses with dijonnaise sauce. All layered inside Mellow Mushroom's fresh dough and baked to warm.
Quirky Turkey Club Pie – A Mellow Mushroom pizza with an olive oil and garlic base and topped with Applewood smoked bacon, turkey, caramelized onions, fresh spinach, mozzarella and parmesan cheeses and finished with sliced organic apples and a swirl of honey mustard.
Slow Ridin' Chick Salad – Grilled all-natural chicken chopped and blended with finely diced jalapeno, caramelized pecans, organic apples and mayo, all served on garlic toast points.
The Pom Pom – American Harvest organic vodka, St. Germaine elderflower liqueur, house-made sour mix, pomegranate syrup and a splash of soda, garnished with fresh pomegranate seeds and lime.
Cucumber Melon Cooler – Fresh cucumber and honeydew melon, honey simple syrup and agave sour all mixed with American Harvest organic vodka and garnished with fresh cucumber.
About Mellow Mushroom Pizza Bakers
Mellow Mushroom Pizza Bakers (http://www.mellowmushroom.com) was founded in 1974 in Atlanta, Georgia. This franchise, operated under Home-Grown Industries of Georgia, Inc., is headquartered in Atlanta, Georgia. For 40 years, Mellow Mushroom Pizza Bakers has been serving up fresh, stone-baked pizzas to order in an eclectic, art-filled, and family-friendly environment. Each Mellow is locally owned and operated and provides a unique feel focused around great customer service and high-quality food. For more information on Mellow Mushroom Pizza Bakers, like us on Facebook at http://www.facebook.com/mellowmushroomHQ, follow us on Twitter at https://twitter.com/MellowMushroom, and follow us on Pinterest at https://pinterest.com/mellowmushroom.