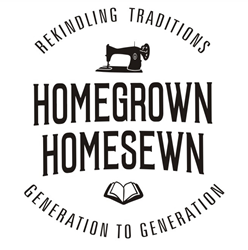 Cincinnati, OH (PRWEB) April 21, 2016
West Cincinnati-based quilting and fabric store HomeGrown HomeSewn has announced new quilting classes open to interested parties of all ages. Staff at the locally-owned fabric store are dedicated to promoting a love of legacy crafts and traditional family living, and aim to provide high-quality sewing and quilting classes to Cincinnati residents.
Sewing and quilting classes begin in May 2016, with registration open after April 15th. Weekly "sew-in" classes will occur on Wednesdays from 10am to 2pm. Participants are encouraged to bring their machines and current projects so they may enjoy a fun few hours exploring their creativity.
Upcoming quilting classes are the result of close work with Cheryl Monaghan, a former teacher at the Best Friends Quilt Shop of Cincinnati. Ms. Monaghan is also an established long arm quilter, and has crafted a variety of quilting class options sure to attract both seasoned and novice quilters alike.
--Sewing and Quilting Class Options
The fabric store has announced several classes at this time, including:
Class 1: Boho Baby Quilt by Missouri Star Company on Saturday, May 21 from 10am to 3pm. The $45 beginner-to-intermediate class is limited to six people, with those who register before May 7 receiving 10% off all supplies.
Class 2: Lemoyne Star by Deb Tucker is a two-session class on Thursday, May 26 and Thursday, June 16. The morning session is from 9:30am to 12:30pm, and the evening session from 6pm to 9pm. Cost is $50 plus supplies for the six-person, intermediate class. Those who register before May 11 receive 10% off supplies.
Class 3: The Good Morning Quilt by Moda happens on Saturday, June 11 from 10am to 3pm. The cost for the six-person class is $45 plus supplies. Interested individuals who reserve their spots before May 27 receive 10% off materials.
Class registration is available through the fabric store's official website and by visiting the shop in person. Classes will likely fill up very quickly, so staff recommend making reservations as soon as possible. Payment is required to reserve a spot. More classes will be posted on the quilting shop's website once all preparations are finalized.
HomeGrown HomeSewn is located at 5761 Springdale Road, Suite L in Cincinnati. Staff at the family-owned-and-operated store encourage emailing them at info(at)homegrownhomesewn(dot)com with questions, concerns, and comments.
About HomeGrown HomeSewn
HomeGrown HomeSewn is a family-owned quilting and fabric store renowned for its extensive inventory of quilting and sewing supplies and presence in the Cincinnati community. A love of quilting inspired the HomeGrown HomeSewn family to start their business, which quickly became a center for learning about the craft. The store provides an extensive variety of sewing supplies, quilting fabrics, and quilting patterns among other products, and offers classes for anyone interested in learning more about these crafts. Team members at the fabric store wish to extend their crafting range to include crocheting, and also plan to offer homeschooling classes in the near future.