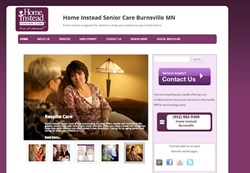 ...this simple honest personal perspective is the true service message we want to help them get out to people in their community through blogging. - Michael Huth CEO Image Forward
Tampa, FL (PRWEB) January 31, 2014
CEO Michael Huth announces the launch of Image Forwards Blogging 101 initiative to help its many Home Instead Senior Care franchise owner clients to take advantage of the optimized content blogs provided to them as part of their internet marketing services. Huth states, "Last year we rolled out about 200 blogs each with optimized content that will help our senior care service clients get found by people looking for them online. Now we are working with the clients directly and encouraging them to take a pro-active approach and get behind the wheel of their WordPress powered blog site." Huth continues, "For the month of February we will be reaching out to our clients so that those who wish to start blogging on their site can do so, as quickly and easily as possible."
There are many online resources available to learn WordPress, to help facilitate the process and get acclimated with the online toolset available to a WordPress blog author the Image Forward team created a simple to follow along with video and have support staff in place to set up the clients account and show them how to use the platform. Finally in addition to teaching any interested client in blogging basics we are also happy to help them get Google + authorship verified for their blog posts as well. This extra effort will help keep our clients above the competition.
"Every year at Home Instead Senior Convention I have the opportunity to hear first hand the many unique stories and experiences the franchise owners and CAREGivers can share about the seniors they care for, and this simple honest personal perspective is the true service message we want to help them get out to people in their community," concludes Michael.
About Image Forward
Image Forward, an internet presence management company, helps our clients to drive revenue by leveraging and building audience engagement through the use of proprietary tools including a high recognition local SEO directory system (if-Places) containing over 105,000 local business listings & automated social content distribution system (if-Social). The company provides turnkey Internet Presence Management Solutions to improve brand visibility by establishing a local search presence & publishing high value content to social portals.
###