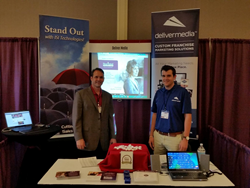 (PRWEB) April 24, 2015
This year's Home Instead® Convention was an exciting stepping stone in the growth of Deliver Media. Coming from the company's recent merger with ISI Technologies, Deliver Media had a tremendous couple of days meeting with all of the franchisees who visited their booth during the Vendor Fair. This was the first time Deliver Media and ISI Technologies were branded together as one, and it was a great success. The company promoted both direct mail pieces as well as their Digital Brochure tool, which sparked the interest of many attendees. Looking back at the convention as a whole, Deliver Media feels like they gained a number of new clients and is extremely grateful for their relationship with Home Instead. Working with all of the amazing people in the Home Instead network who provide personal and compassionate care is truly a blessing for the marketing company.
Additionally, Deliver Media has aligned with the Home Instead Senior Care Foundation® to build a digital brochure to provide an interactive education program to the entire franchise network to help seniors in need. Since 2003, Home Instead Senior Care Foundation has been helping aging adults. The Foundation has granted nearly $2 million to nonprofits serving seniors in the United States and Canada. 100 percent of every donation benefits nonprofits that provide programs and services to enhance the lives of aging adults and those who care for them. Please visit http://www.HomeInsteadFoundation.org to learn more.
About Home Instead Senior Care
Founded in 1994 in Omaha, Nebraska, by Lori and Paul Hogan, the Home Instead Senior Care® network provides personalized care, support and education to help enhance the lives of aging adults and their families. Today, this network is the world's leading provider of in-home care services for seniors, with more than 1,000 independently owned and operated franchises that are estimated to annually provide more than 50 million hours of care throughout the United States and 16 other countries. Local Home Instead Senior Care offices employ approximately 65,000 CAREGiversSM worldwide who provide basic support services that enable seniors to live safely and comfortably in their own homes for as long as possible. The Home Instead Senior Care network strives to partner with each client and his or her family members to help meet that individual's needs. Services span the care continuum from providing companionship and personal care to specialized Alzheimer's care and hospice support. Also available are family caregiver education and support resources. At Home Instead Senior Care, its relationship before task, while striving to provide superior quality service.
About Deliver Media
Deliver Media, a Tampa, FL based marketing and advertising company has been a preferred vendor in the Home Instead network for the last six years. The company specializes in custom franchise marketing solutions and offers a full suite of services from direct mail to social media, search engine optimization, digital brochures, graphic design, and website development.