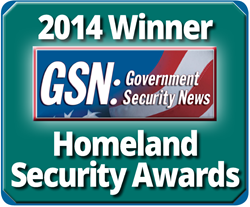 Chatham, NJ (PRWEB) December 01, 2014
Desktop Alert Inc., the 'less than one minute alert notification platform' used by the U.S. Military and numerous healthcare and corporate organizations worldwide, today announced that it has been awarded the Government Security News' (GSN ) 2014 Homeland Security Award for 'Best Mass Mass Notification System'. Additionally, Northern Command / NORAD received a GSN Platinum award for its enterprise-wide Alerting System, which is based on Desktop Alerts' network-centric emergency mass notification technology.
The 2014 Distinguished Panel of Judges included Chuck Brooks, VP Homeland Security, Xerox Corporation; Scott Greiper, founder and CEO of Security Strategy Group, Inc; and Denise Rucker Krepp, attorney, professor at George Washington University, consultant to DOT, DHS clients. Judging of International entries was conducted by Marianne Molchan, president of Molchan Marine Sciences of Green Cove Spring, FL.
"We are honored by the GSN Homeland Security Award recognitions," said Howard Ryan CEO and Founder of Desktop Alert Inc. "We've had a great deal of success delivering value to customers with a comprehensive and seamless mass notification solution that enables IP-Based networks to fulfill emergency mass communication requirements."
Desktop Alert can contact thousands of computer users at their desktop and require them to click to confirm receipt of the message flashed on their screen. Those not verified are then listed on a report and/or sent as an integrated "Target Package" to be automatically contacted by other means such as email, sms, texting, smartphone, and personal safety device.
Desktop Alert Inc is the official provider of the enterprise notification system to the Army and Air National Guard, as well as the United States Air Force Academy, USAF Space Command at Peterson Air Force Base, and Fort Rucker in Alabama. Desktop Alert Inc. is the largest provider of IP-based notification services to the United States Army worldwide including Fort Hood in Texas.
About Desktop Alert Inc. http://www.desktopalert.net
Desktop Alert provides an array of end-point integrations with customers public address systems (Giant Voice), intercom systems, commanders channels, e-mail platforms, DSN-based and cloud-based telephony and sms message systems, network desktop alert popups, national weather service zip code based alerts, digital signage, cable tv, numerous social media systems, CAP server alert, external system sensors such as temperature devices and fire alarm systems.