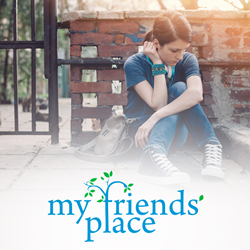 Every child in our community should have a safe place to sleep, a warm meal, and someone to talk to about their problems, and that's precisely what My Friend's Place has been giving homeless children in our area since 2011
Richland, WA (PRWEB) August 16, 2016
Groth Family Insurance, a full service insurance and financial planning firm that provides business and residential coverage to clients throughout southeastern Washington, is announcing a joint charity drive in conjunction with local nonprofit My Friend's Place to assist homeless youth in the area.
For the last five years, My Friend's Place has provided a safe and nurturing environment for homeless and troubled young people between the ages of 13 and 17. Short term services from My Friend's Place include warm meals, clean showers, laundry services, and temporary lodgings. Long term services include family reconciliation counseling, educational programs, job training, transitional living arrangements, and assistance with mental health or chemical dependency.
"Every child in our community should have a safe place to sleep, a warm meal, and someone to talk to about their problems, and that's precisely what My Friend's Place has been giving homeless children in our area since 2011," says Duane Groth, founder and manager of Groth Family Insurance.
To gather support for the charity event and advocate for homeless children in Washington, Groth and his team have created an online social media forum and implemented a community email program. Further, Groth Family Insurance will be featuring the charity drive to benefit My Friend's Place in an upcoming issue of the firm's monthly webzine "Our Hometown": http://www.grothfamilyinsurance.com/Our-Hometown-Magazine_39.
Groth Family Insurance has recently joined the ranks of the national "Agents of Change" community involvement campaign. As a member agency, Groth and his professional team will be assisting a new charitable cause or nonprofit organization in the southeastern Washington region every other month.
Readers that want to take action to support My Friend's Place during this charity drive are invited by Groth Family Insurance to visit the following page and make an effort to assist the cause: http://www.grothfamilyinsurance.com/At-Risk-Youth-Find-Solutions-At-My-Friends-Place_12_community_cause. Anyone who wishes to track future organizations and nonprofits supported by Groth Family Insurance can bookmark the firm's Community Causes list here: http://www.grothfamilyinsurance.com/community-cause.
About Groth Family Insurance
As a Personal Finance Representative in Richland, agency owner Duane Groth knows many local families. His knowledge and understanding of the people in his community ensures that clients of Groth Family Insurance are provided with an outstanding level of service. Duane and his team look forward to helping families protect the things that are most important - family, home, car and more. Groth Insurance also offers clients a preparation strategy for achieving their financial goals. To contact an expert at Groth Family Insurance, visit http://www.grothfamilyinsurance.com/ or call (509) 946-5000 in Richland or (509) 547-1171 in Pasco.